Non-fiction
Dan Coggin --- Bangladesh's friend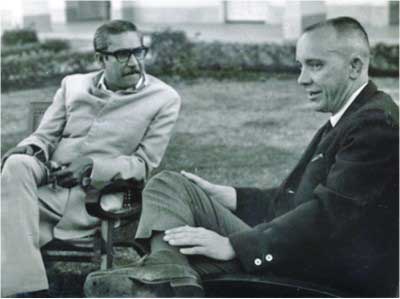 In December 2011, when Bangladesh was celebrating its 40th independence anniversary, Dan Coggin was on his way to Dhaka after many years. From San Francisco, where he lived after virtual retirement from his long luminous career, Dan reached New York on his way to Dhaka in the third week of December. Not in good health, he was too excited to be in Bangladesh, where he had spent a great time of his career in covering the events of our Liberation War.
We, from the Sector Commanders Forum and Muktijuddho Jadughar, were eagerly waiting to receive the great American journalist who had witnessed the holocaust of 1971 . But despite all his excitements, which he had communicated to me from time to time, Dan could not finally make the trip: he suddenly fell sick and was admitted to a New York hospital . And finally the shock came; his close aide Aninda Atik communicated the sad news: Dan Coggin breathed his last on January 22 after the artificial respiratory system was taken off.
We had invited Dan to be the guest of honour at the Sector Commanders' Forum national convention in Dhaka, held on December 3, 2011, along with two other great Americans Sally Willoughby and Arnold Zeitlin. Arnold, then the Pakistan bureau chief of the Associated Press, was the first Western journalist who dispatched a brief censored report on the Pakistan military's crackdown in Dhaka on March 25, 1971. And Sally, then a young woman, is one of the few courageous American conscious keepers, who, along with her associates, played an exemplary role in organizing the historic blockade of American arms shipment to Pakistan from Baltimore and Philadelphia ports . The two were in Dhaka in December but not Dan, whom we wanted so desperately.
I pay tribute to Dan, who, despite varying risks on his life, covered the crucial events of 1971, painstakingly and extensively, than many other foreign journalists could do. The coverage, including several cover stories in TIME magazine, that Dan and his colleagues had produced on political, military and humanitarian issues, will always be remembered as the most dependable eyewitness accounts of Bangladesh's independence history.
Dan not only covered the Bangladesh war but also wrote extensively on the Vietnam war while posted in Saigon. The veteran U.S. journalist worked for Associated Press (AP) and TIME magazine in 1954-82, besides carrying out his special assignment for the UN Under Secretary General for the Asia Pacific region.
Dan proved to be a bold reporter, displaying both courage and conviction in the job he was entrusted with. Hours after the launch of the tank-led offensive against unarmed civilians in Dhaka on March 25, 1971, the marauding army imposed a virtual blockade on the brutal crackdown by expelling all foreign journalists from Dhaka. TIME correspondent Dan Coggin, who had to leave Dhaka, did not surrender. He trekked back. He first entered India where thousands of Bangladesh refugees were then pouring in.
Dan was a dashing journalist who was not only interested in covering the refugee problems in the bordering Indian states, but also developments well inside Bangladesh, where the Mukti Bahini were putting up effective resistance against the Pakistan army and its local Islamist cohorts. In a painstaking journey, he trekked back from India by motorcycle, truck, bus and bicycle, and finally became the first expelled American journalist to re-visit Dhaka. Dan was also in Dhaka to report on the historic surrender of the Pakistan army to the joint India-Bangladesh command on December 16, 1971.
The United States, under Richard Nixon, was in no mood to support Bangladesh's independence . Washington was rather supportive to Pakistan, despite the fact that its army was carrying out a large-scale massacre and other persecutions on unarmed Bengali civilians.
But the great American people, including Senator Edward Kennedy, did not agree with Nixon and Kissinger's Bangladesh policy. The influential U.S. media played their due role: they covered the Bangladesh genocide and mass rape quite extensively, to let the world know about the atrocities by a state military machine upon unarmed civilians. And Dan Coggin was one of those prominent journalists whose contribution to unbiased reporting in 1971 was enormous .
In his long career, Dan was not only a reporter per excellence in all his assignments, he also contributed immensely to ESCAP, producing documentaries and other creative writings . The speeches he wrote for ESCAP's regional inter-governmental meetings were variously technical, propagative, propositional and descriptive of socio-economic problems, with the aim of fostering inter-country action to accelerate development. An advocate for justice, Dan Coggin's major speeches in global forums, such as the UN, sought primarily to put the case of the majority of the world's neediest people in perspective.
Dan resigned from TIME in Mid-1972 to be editor of the Beirut-based Middle East newsmagazine SKETCH. But the growing hostilities in Beirut forced the magazine to close in late 1974. In January 1975, Dan moved to Jakarta to cover Indonesian issues, including the Pertamina financial crisis, for the Far Eastern Economic Review and The New York Times. In early 1976, as editor-in-chief, Dan Coggin undertook a project in Jeddah by launching the English-language daily Saudi Gazette. He freelanced in the United States briefly in late 1976 before moving to Hong Kong to join The Star. He was also in the serious investigative business monthly INSIGHT, in Hong Kong, as assistant editor until moving to Bangkok in early 1978 as editor-in-chief of two daily newspapers.
Based in Beirut, Saigon, New Delhi, Singapore and Jakarta, responsible for TIME magazine's news coverage at various times in nearly forty countries from North Africa eastward throughout the Middle East and Asia, Dan Coggin covered spot news and wrote analyses of political, military and economic developments, including of the Vietnam War during the peak 1966-1968 period, the 1970 invasion of Cambodia, Indonesia's 1965-66 anti-communist bloodbath, the Middle East turmoil, two India- Pakistan conflicts and the birth of Bangladesh in 1971. He wrote book-length reports on the Vietcong and the Indonesian upheaval. He has to his credit extensive interviews of the late Ahmed Sukamo, Gamal Abdel Nasser, Pandit Jawaharlal Nehru, Indira Gandhi and Yasser Arafat, among others.
Dan was one of the few Western journalists who interviewed Bangabandhu Sheikh Mujibur Rahman just before March 25, 1971, when the Pakistan military arrested the Bangladesh leader following the launch of 'Operation Searchlight' in Dhaka.
Although he began his career as a domestic reporter, Dan covered the Indian subcontinent quite extensively. He is one of the great reporters who covered President Kennedy's assassination in the mid-sixties . In Georgia and Alabama, in the early years, he covered racial problems, state politics, crime and sports.
Dan Coggin understood the need to serve the cause of humanity and justice, putting his pen precisely opposite to what his country's government did in 1971. We deeply mourn the death of Dan Coggin, the great friend of Bangladesh.
Haroon Habib, freedom fighter,author, journalist, is joint secretary-general of the Sector Commanders' Forum. E-mail : hh1971@gmail.com .