Doubt over Samuels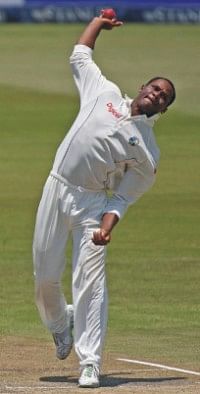 West Indies' Marlon Samuels is to undergo independent analysis of his suspect bowling action on Monday at England's National Cricket Academy at Loughborough University, the International Cricket Council (ICC) said in a statement on Wednesday.
The analysis will be performed by Dr Mark King, a member of the ICC panel of human movement specialists.
Samuels, primarily a batsman, was reported by the umpires last month for a suspected illegal bowling action with regard to his 'faster ball' during the third Test against South Africa in Durban.
He has taken just seven Test wickets as an off-spinner at an expensive average of 127.
But the 27-year-old got through more overs than usual in Durban because of an injury to Chris Gayle.
On-field umpires Simon Taufel (Australia) and Aleem Dar (Pakistan), together with third umpire Brian Jerling, were concerned by Samuels's action.
Match referee Roshan Mahanama then informed both the West Indies tour management and the ICC in accordance with the rules regarding suspect actions.
If Samuels is found to have been bowling with an illegal action he will be suspended from bowling that particular delivery in international cricket with immediate effect.
Although only his 'fast' deliveries have been reported as suspect, the ICC process requires his action generally to be analysed.
Should the analysis confirms it is his quicker deliveries only that are illegal, then he would be allowed to continue bowling in international cricket without using that delivery but subject to the warning that should he bowl his 'fast' ball he would run the risk of being reported a second time.
However, the ICC said that if this month's analysis concludes that Samuels generally bowls with an illegal action, he will be suspended from bowling in international cricket until such time as he has corrected his action and submitted to a fresh independent analysis that concludes his action has indeed been remedied.
Within 14 days of the independent analysis being carried out, King will supply the ICC with a written report advising the outcome of the biomechanical assessment. This will confirm whether the action used by Samuels was legal or illegal.