International Mother Language Day
Tiny tots introduced to Bangla alphabets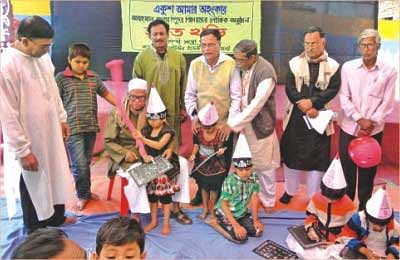 Three-year-olds Aditto Chowdhury and Nahian Al Waeshy, together with around 50 children in their age group, wrote Bangla alphabets for the first time in a 'Hatekhari' (initiation to education) programme held at Shaheed Shadhan Sangeet Mahabidyalay in Pabna last Tuesday morning.
Gonoshilpi Shongstha, Pabna, a leading cultural organisation of the district, arranged the special event for children below school-going age to mark the International Mother Language Day. Prominent educationists and personalities of the district instructed the little ones on how to write Bangla alphabets.
"Our initiative to introduce children to Bangla inscription will attract them towards the Bangla language at the entry point of their educational life," Moshfeka Jahan Konika, secretary of the Pabna Gonoshilpi Shongstha, told this correspondent. Biplob Bhoumik, organiser of the programme, said that the event would be an annual feature to mark February 21 (International Mother Language Day) and generate awareness on our mother language. Former lawmaker and veteran lawyer of Pabna Court, Advocate Golam Hasnayen; educationist Professor Shibojit Nag, also the president of the organisation; retired teacher Khalilur Rahman; cultural organiser Abdul Aziz; Advocate Shafikul Islam and secretary, Pabna Press Club, Ahmedul Haque Rana were present among others as guests.
Advocate Golam Hasnayen stressed the need to teach mother language. "If we do not have sufficient knowledge of our mother language we will be unable to move forward," he said.
"Through such programmes, we have to take the initiative to introduce children to Bangla," said Professor Shibojit Nag, prominent educationist and the president of the organisation.