Manipuri Theatre's Kohe Birangana and Shree Krishna Kirtan go to India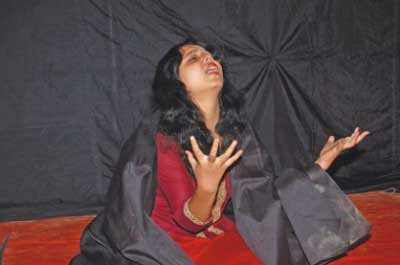 Manipuri Theatre will hold two shows of its productions "Kohe Birangana" and "Shree Krishna Kirtan" at the International Manipuri Literature and Cultural Festival to be held in Guwahati, Assam in India. The Bangladeshi troupe will hold the shows on February 18 and 19. Moreover, the troupe will hold a couple of more shows of the plays in other places in Assam and Tripura during its ten-day tour.
Chief of the troupe Shuvashis Sinha informed that the local Bishnupriya Manipuri Writers Forum in Guwahati will organise the festival, where Manipuri communities from Bangladesh and India will uphold their ethnic identity through different cultural performances.
Both the Manipuri Theatre productions have been written and directed by Shuvashis.
"Kohe Birangana" is based on Michael Madhusudan Dutt's "Birangana Kabya". The play articulates four verses among 11 from the original text. The play features agony of female characters from the epic "Mahabharat"-- Shakuntala, Draupadi, Dushala and Jona.
Jyoti Sinha played the four characters. Other performers, who helped Jyoti in chorus, were Smriti Sinha, Shukla Sinha, Sunanda Sinha and Bhagyalokkhi Sinha.
On the other hand, "Shree Krishna Kirtan" is adapted from medieval period poet Baru Chandidas' writing with the same title.
Chandidas wrote "Shree Krishna Kirtan" to highlight the anthropomorphic aspects of Lord Krishna. It was an arduous process as he had to pore over puran and religious books. In the play, Shuvashis worked on only seven episodes out of 13 from the original piece.
Jyoti Sinha and Aparna Sinha play as Radha and Krishna respectively. Shukla Sinha will do another lead character in the play.