3 areas of Sundarbans canals made dolphin sanctuaries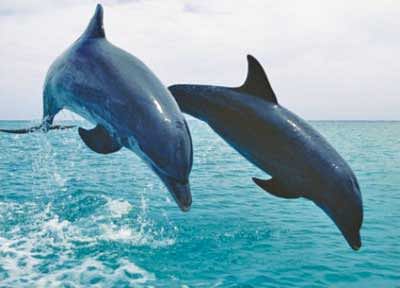 The government has declared three areas of the canals in the Sundarbans, covering 32 kilometres, as "dolphin sanctuaries".
Around 12 km from Ghagmari check-post of Chandpai Range to Karamjal check-post through Dhangmari canal and Pashur River, 15 km from Jongra check-post to Andharmari check-post through Mrigamari check-post and five km from Dudhkhali check-post to Supati canal through Bemara canal have been declared as safe havens for the valued species.
A gazette notification was issued in this regard on January 29. A copy of the notification reached the Sundarbans East Range on Thursday.
Fishing in the 32-km waterway has been prohibited with a provision of sentence and fine in violation of the ban. An offender will have to serve in jail for six months to five years and pay penalty for violation of the rules.
Meanwhile, plying of large vessels carrying goods such as oil and other forms of cargo through the sanctuaries still poses a threat to the endangered cetaceans.
Bangladesh Inland Water Transport Authority (BIWTA) has been allowing large vessels to go to Mongla from the Bay of Bengal through the Sundarbans from April 28 last year.
DFO Mihir Kumar Do of the Sundarbans East Range said the Ministry of Environment and Forests has declared the three areas of the world's largest mangrove forest as dolphin sanctuaries as per recommendations of the experts.
The experts made the recommendations following a survey jointly conducted by Wildlife Conservation Society (WCS) and Bangladesh Cetacean Diversity Project (BCDP) had found dolphin habitat in the coastal rivers of the Sundarbans and swathe of no-ground areas of the Bay of Bengal.
The survey report said there were 350 Gangetic River Dolphins, 6,000 Irrawady Dolphins, over 1,000 Bottlenose Dolphins, about 1,400 Finless Porpoises, and a significant number of Indo-Pacific Hump-backed Dolphins, Pan-tropical Spotted Dolphins and Spinner Dolphins in the Sundarbans and adjacent water bodies and swathe of no-ground areas.
Besides, the experts found several Bryde's Whales and Sperm Whales during the observation.
A total of 15 wildlife experts led by Brian D Smith of the US-based WCS conducted the survey.
Jahangir Alam, BCDP coordinator and researcher, told the news agency that with the declaration of the three areas of the Sundarbans as dolphin sanctuaries, the number of the species as well as fish production will increase.
He said the Forest Department and WCS will jointly make the management plan which will be implemented by the Sundarbans Forest Division.
Dolphins move mostly in the rivers in the areas of Dhangmari, Chandpai, Andharmanik, Dudhmukhi, Betmore and Patakata of the Sundarbans East Zone under Khulna and Bagerhat districts.
They are also found in the rivers of southern region, including Brahmaputra, Jamuna, Meghna, Karnaphuli and Sangu rivers.