<i>Megh now a lonely cloud</i>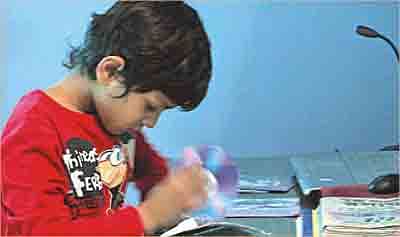 "Mummy and Papa have died."
It was a five-year-old kid on the phone, talking to his granny yesterday around 7:30am. Mahir Sarowar Megh, the only child of Sagar Sarowar and Meherun Runi, was the first to inform anybody about the murder of his parents.
"I couldn't believe it," Nurunnahar Mirza, mother of Runi, told reporters and others crowding at the 58/A/2 West Rajabazar flat's fourth floor, after hearing of the killing of the journalist couple.
"I rushed here. Megh opened the door," she said, wailing. Nurunnahar lives in a house at Indira Road, 500-600 yards off her daughter's residence, a six-storey building.
Around 7:30pm on Friday, Nurunnahar dropped Megh at the West Rajabazar house. The grandson calls her 'Amma' as she brought him up due to the busy profession of her daughter and son-in-law.
Both Sagor and Runi were broadcast journalists but they started their career as newspersons with the print media. Runi, who was a senior reporter of ATN Bangla, and Sagor, news editor of Massranga television, also worked for German Bangla radio Deustche Welle.
They returned from Germany in May last year and admitted their only child Megh in an English medium school on Indira Road.
"Initially, he [Megh] was telling stories such two people were at their flat Friday night and ate rice with eggs. Megh also told us he had seen those two at a picnic he had attended," Nawshad Alam Rajon, the eldest brother of Runi and an employee of Rahimafrooz, told The Daily Star yesterday afternoon.
"Later, Megh became calm and quiet."
The Daily Star could not know which picnic the boy was talking about.
Asked what they found as they reached the crime scene, Nawzesh Alam Rimon, a BBA student of Independent University and the youngest maternal uncle of Megh, told The Daily Star, "We came to know about the incident from Megh." Rimon went there after his mother.
"Megh phoned his granny around 7:30am," said Nawshad. "So my mother rushed there. The door was locked form inside and Megh opened the door."
Visiting Megh's room, attached to his parents', these correspondents found a black wallet, believed to be Sagar's, a handbag of Runi and some of her cosmetics on the bed. It seemed nobody had slept on that bed the previous night.
Neither the police nor relatives wanted to disclose Megh's current location. These correspondents, however, went to see the kid at one of his relative's yesterday afternoon.
On condition of not disclosing the location of Megh, relatives allowed The Daily Star journalists to take a picture of a traumatised and lonely Megh.
A relative, preferring not to be named, said they were worried as the child had thrown up a few times and was silent.
"We are not sure if he [Megh] can realise what has happened to his life," said another relative.
Megh, a student of the nursery class at William Carey International School, went on a study tour arranged by the school on Friday.
"We all came back around 7:00pm from Ashulia and all the students went home within 30 minutes," said Samir Baidya, vice-principal of the school.
As Megh said the two persons he saw in their house at the night of the gruesome killing were at a "picnic", investigators rushed to the school to know who else had been allowed on the study tour apart from students and parents.
But the vice principal confirmed that only students, parents, school teachers and staff had taken part in the study tour. Megh attended with his maternal grandmother.
The investigators also collected pictures of the study tour to check whether any other outsiders were present.
The school teachers say association with teachers and classmates would help Megh to recover from trauma soon.
"He is a perfect and excellent kid," Linda Curie, Megh's class teacher, said about the boy.
Meanwhile, law enforcers are looking for answers to how the killers entered and left the house through an eight by 14 inches window with iron grill in the kitchen, said a police officer requesting anonymity.
The kitchen is attached to the balcony where the iron grills are broken. Observing the kitchen it seemed somebody boiled a pack of noodles at night as an empty noodle packet and testing salt were lying on the kitchen floor.
Also, there were two pots half full of water on the gas burner while an egg had been left untouched near the burner.
It's not clear what Megh saw when the crimes took place. But those who spoke to him in the morning say the kid saw in the house some persons with firearms in their hands and scuffling with his father.
All the marks on the bodies of Runi and Sagor confirm that sharp weapons were used in the killing. A knife was found from inside Sagor's body and police recovered blood stained machetes from the crime scene.
Megh's statement about the presence of two people at their house, however, is a vital clue as to what the investigators are trying to unearth.