Journalist couple killed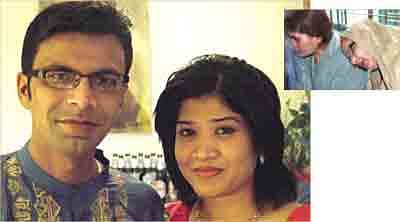 Five-year-old son first to spot his lifeless parents; PM orders police to track down killers immediately; Khaleda decries slide in law and order
---
A journalist couple were brutally killed in their West Rajabazar flat in the capital early yesterday.
Sagar Sarowar, a news editor at the private TV channel Maasranga, and his wife Meherun Runi, a senior reporter for ATN Bangla, were found dead on in their bedroom.
Their only son, five-year-old Mahir Sarowar Megh, was in the flat when the twin murders were committed sometime between 2:00am and 5:00am yesterday.
Sagar suffered 28 stab wounds and Runi five before they breathed their last, doctors at Dhaka Medical College morgue said after autopsies on their bodies.
The two and their son had been residing in the flat, on the fourth floor of a five-storey building, for only a few months.
Around 7:30am, Megh called his grandmother Nurunnahar Mirza (Runi's mother) from Runi's mobile phone and gave her the shocking news.
Nurunnahar, who lives nearby, said, "I rushed to the flat and found Sagar and Runi murdered in their bedroom."
It was Megh who opened the door when she rang the bell. A student in nursery class, he could not say anything specific as to how his parents had been killed or who had committed the crime.
Hamida Sultana Ananda, who lives in a neighbouring flat, quoting Megh said some guests had dinner at the flat on Friday. She said she had heard Megh tell his grandmother that those who killed his parents had stayed in the house and also had dinner that night.
Sources say that a few people staying in the couple's home on a late Friday night was not unusual. It could not be confirmed, though, as to how and when the killers had got in or out of the flat.
Relatives, colleagues, senor journalists, police, members of intelligence agencies and politicians rushed to the small flat as soon as news of the murders hit TV screens in the morning. Many colleagues of Sagar and Runi could not hold back their tears.
Police detained two security guards and the caretaker of the building --- Palash Rudra Paul, Humayun Kabir and Abu Taher. They also seized three mobile phones of the couple, police said.
Members of the Detective Branch of police also picked up Runi's brothers--Nawsher Alam and Nawzesh Alam around 2:15pm but they were freed by 4:30pm.
Mahbubor Rahman, deputy commissioner of Detective Branch (DB-South), said police were yet to ascertain the reason behind the murders or identify the killers.
It could not be confirmed whether the killers had left with any valuables from the house. A visit to the flat revealed clothes scattered on the couple's bed. The room was found virtually ransacked. The iron grill of the kitchen window was missing a bar but the hole did not appear large enough for an average person to get in or out.
Before being detained by police, security guard Palash, who was on duty between 10:00pm Friday and 6:00am yesterday, told The Daily Star that Nur-un-Nobi, president of the building committee, had informed him over the intercom that he heard moaning sounds. Nur-un-Nobi asked him to see what was going on.
"I went out of the building and I also heard the sounds of crying coming from a flat upstairs," he said. He could not ascertain, though, which flat it was. "I informed him [Nur-un-Nobi] about the matter just before the azan for Fazr prayers," Palash said, adding that he had no clue that the couple had been murdered.
He said Sagar had returned home around 2:00am. His office car dropped him off. He said he did not see anyone entering or going out of the building after 2:00am.
The visitor's register of the building shows that one Toufiq went to Sagar and Runi's flat at 4:52pm Friday but there is no record of his leaving.
Talking to The Daily Star, Nur-un-Nobi, who lives in the flat below Sagar and Runi's, said he heard sounds of moaning and asked the security guard to see what was going on. "I came to know about the murder after Runi's mother came to the house," he said.
However, Rafiqul Islam, who owns a neighbouring building and whose flat is just four feet away from the couple's flat, said he was awake until 2:00am yesterday and again woke up for Tahajjud prayers around 4:30am but he did not hear any sounds.
Home Minister Shahara Khatun, BNP acting Secretary General Mirza Fakhrul Islam Alamgir, Vice-Chancellor of Dhaka University AAMS Arefin Siddique, Inspector General of Police Hassan Mahmood Khandker, Chief Executive Officer of Maasranga Television Syed Fahim Munaim, Prime Minister's Special Assistant Mahbubul Haque Shakil and Dhaka Metropolitan Police Commissioner Benajir Ahmed visited the flat. Several hundred journalists thronged the spot.
President Zillur Rahman, Prime Minister Sheikh Hasina and BNP Chairperson Khaleda Zia have expressed their shock at the murder of Sagar and Runi.
Shahara Khatun said she had given instructions to the law enforcement agencies to arrest the killers within 48 hours.
BNP leader Mirza Fakhrul Islam Alamgir said, "We've been saying repeatedly that the country is turning into a slaughter ground gradually. This brutal killing again proves there is no law and order and rule of law in the country."
Law enforcers and intelligence personnel from Criminal Investigation Department (CID), DB and Rapid Action Battalion (Rab) swiftly made their way to the scene of the crime.
Autopsies on Sagar and Runi were conducted at Dhaka Medical College morgue around 1:00pm. The couple were buried later at Azimpur graveyard after four namaz-e-janazas.
No case had been lodged in this connection till the filing of this report at 10:30pm.
THE BRUTALITY
The killers stabbed Sagar 28 times. According to morgue sources, six were in his chest, two in the abdomen, three in the throat, 15 in the back and one on a thigh.
During autopsy, a small knife (which had roughly a four-inch blade) was found jammed in the right side of his chest. Almost the whole of the blade was stuck in his body. This stab penetrated Sagar's lungs deeply, according to morgue sources, who added that the knife did not have its handle.
They noted that all the stabs in Sagar's body were very much straight and some of the stabs penetrated his lungs and liver. The stabs in the throat partially cut his oesophagus (the passage down which food moves between the throat and the stomach) but left his carotid arteries (which supply blood to the head) intact.
The sources also said Sagar's hands were tied at the back with a scarf and his legs were bound with another scarf.
The morgue sources suspect that three types of knives were used in the attack on Sagar. The width of some stabs was found to be around two-and-half inches while the width of the others was around two inches and one inch.
The killers made two close stabs in Meherun Runi's abdomen. They also stabbed her under the eyebrows, said the morgue sources.
Sohel Mahmud, Lecturer of the Forensic Department of Dhaka Medical College, conducted the autopsies. He told reporters that it appeared to him that the killers were "unprofessional". "If the killers were professional, they would not have made so many stabs," he commented.
COUPLE LAID TO ETERNAL REST
Sagar Sarowar and Meherun Runi were laid to eternal rest at Azimpur graveyard last evening after four namaz-e-janazas.
The first one was held at the Dhaka Reporters Unity premises in Segunbagicha at noon. The bodies were then taken to Maasranga Television office premises, the last workplace of Sarowar, and to ATN Bangla at Karwanbazar.
The last janaza was held at their own residence at Nawabpur in Old Dhaka.
Information Minister Abul Kalam Azad, special adviser to a caretaker government M Tamim, State Minister for LGRD and Cooperatives Jahangir Kabir Nanak, Opposition Chief Whip Zainul Abdin Farroque, Workers Party of Bangladesh President Rashed Khan Menon, Awami League presidium member Yusuf Hossain Humayun, Jatiya Press Club President Kamal Uddin Sabuj, among others, attended the namaz-e-janazas.
Runi's qulkhani will be held on Tuesday after Asr prayers at her uncle's residence at 45, Old Boubazar of Panthapath, while Sarowar's qulkhani will be on Wednesday after Asr prayers at Boro Mosque of Ray Shaheb Bazar in Old Dhaka.