Newsmen protest assault on colleague in Joypurhat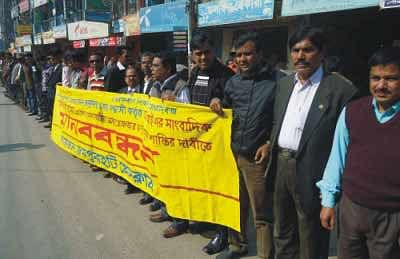 Newsmen of different dailies and electronic media in Joypurhat district yesterday formed a human chain followed by rally, demanding stern action against the culprits who assaulted the district correspondent of Channel-i on Thursday.
At the rally at Joypurhat Press Club they strongly condemned the attack on Shafiul Bari Russel by the mayor of Kalai municipality and organising secretary of Kalai upazila ruling party.
After the incident, Russel filed a case with Kalai police station on Saturday accusing 10 people including Mayor Toufiqul Islam Talukdar, upazila AL leader Abu Kalam, Alam Hossain, Natsi Talukdar and Abdur Razzak.
The journalists at the human chain and rally protested the attack on Russell near a bus stand just for carrying out a report on clashes between the activists of AL and BNP of the upazila on January 27 afternoon.
Several journalists of the district received threats over their cell phone after the incident. The callers asked them not to file any report of assault on Russell, said the speakers.
Advocate Nripendranath Mondal, President of Joypurhat Press Club chaired the rally.
At the meeting, the newsmen demanded immediate arrest and punishment of the offenders.
Meanwhile, Kalai police yesterday arrested accused Alam Hossain, said Mokhlesur Rahman, officer in-charge of Kalai police station.
Russell is still being treated at the Joypurhat Modern Hospital.
Contacted, Kalai municipality mayor said he was not involved with any of the incidents.