Egypt marks uprising anniversary
Army lifts emergency, releases prisoners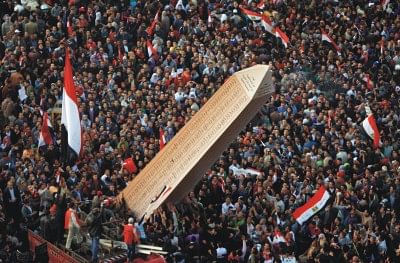 Thousands of Egyptians held a rally in Cairo's Tahrir Square yesterday marking the first anniversary of the uprising, which toppled Hosni Mubarak.
Some celebrated the success of Islamist parties in the first post-Mubarak elections, while others were calling for further political reforms.
The decades-old state of emergency law had been partially lifted to mark the anniversary.
On Tuesday, Scaf chairman Field Marshal Mohamed Hussein Tantawi said the state of emergency, which has been in place in Egypt almost continuously since 1967, was to be lifted.
But he said the law would still be applied in cases of "thuggery", without giving any details.
An end to the much-hated law had been a key demand of the protesters. During his nearly 30 years in power, Mubarak had repeatedly promised to lift the decree and then failed to do so.
Mubarak is on trial accused of ordering the killing of demonstrators though he denies the charges.
The military council also announced that more than 1,900 prisoners have been pardoned by Field Marshall Tantawi - they reportedly include prominent blogger Michael Nabil, who was jailed for insulting the armed forces.
On Tuesday night, several thousand people had gathered to camp out in Tahrir Square, the focus of last year's demonstrations.
The various groups are all competing to claim ownership of the revolution, says our correspondent, from the youth movement which began the protests a year ago to the Muslim Brotherhood, which now dominates parliament, and the Supreme Council of the Armed Forces (Scaf), which took power last February after President Mubarak stepped down.
Protesters who stayed in the square overnight put up tents and chanted slogans against the military council, which many say should stand down immediately.
"We are not here to celebrate. We are here to bring down military rule," said one protester.
But some people in the square said the protests should end and the new leaders be given time to move Egypt forward.