Russia woos workers from Bangladesh
Russian official says infrastructure projects to create huge jobs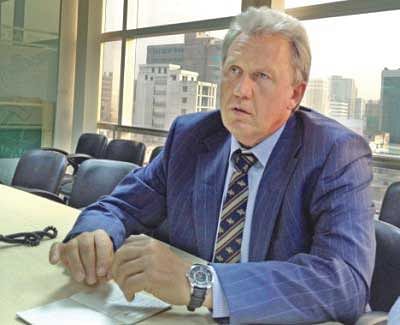 Zubko Alexander Ivanovich
Russia can become a good market for Bangladesh's skilled workers in the construction sector. Zubko Alexander Ivanovich, honorary consul of Bangladesh in Vladivostok of Russia, shared this opinion at an interview with The Daily Star this week.
"There is a big market for Bangladesh's skilled workers in Russia," said Zubko, citing the ongoing infrastructure development works in Vladivostok, capital of Primorsky territory under the Russian Federation.
But a deal between the two countries is required to tap the potential in the Russian market, he said.
Zubko was a member of the then Soviet Union naval team that cleared mines at Chittagong Port after Bangladesh's independence in 1971.
He came to Dhaka to discuss the market potential in Russia with the policymakers and private migrant workers' recruiting and sending agencies.
Zubko said Russia is now building oil and gas pipelines in its Far Eastern region to strengthen its foothold in Asian energy markets, mainly by catering the energy demand of its close neighbours Japan, China and Korea.
"The current (Russian) government now gives a lot of attention to Asia," said Zubko. "It is a big market to sell energy resources."
To tap the demand of these Asian economic powers, the Russian authority has begun building infrastructure in its Far Eastern region centring Vladivostok.
The investment also aims to construct shipyards and build an oil refinery as a platform for supplying fuel to Asian countries, said Zubko.
He said oil can be brought to China by road instead of sea routes. Japan is also in an advantageous position, he added.
The distance from Vladivostok city to China is 220 km and to Seoul is 744 km.
"These countries will find imports of energy resources from Russia cheaper than from other parts of the world," he said.
According to Zubko, his government started a programme in 2009 to develop Vladivostok as a centre of business and social and cultural relations as part of its aim to build deeper trade and economic ties with the Asian neighbours.
The Vladivostok city, which is going to host the 24th summit of the Asia-Pacific Economic Cooperation forum, also has one of the largest ports of the Russian Federation on the Pacific Ocean.
Apart from government investment to develop infrastructure, private investments are also taking place in various sectors, including construction.
At present, labourers from North Korea, Uzbekistan and China work in Vladivostok, said Zubko, who are engaged in construction business along with import of building materials, food and beverages.
But he thinks Bangladeshi skilled workers can do jobs better if they are given any specific task. Because they have experiences, he said.
Currently thousands of Bangladeshi migrants work in construction projects in the Middle Eastern countries such as United Arab Emirates.
Once the Bangladeshi workers can prove their skills by working in Vladivostok, interest will be grown in other parts of Russia to employ more workers from Bangladesh, said Zubko.