Trial demanded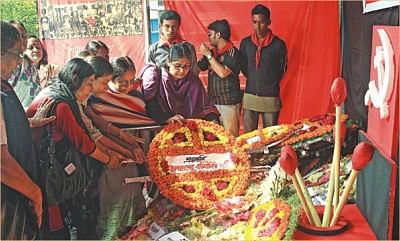 The Communist Party of Bangladesh (CPB) yesterday observed 11th anniversary of the killing at Paltan rally by reiterating the demand of bringing the killers under trial.
Addressing the programme, leaders of different political and socio-cultural organisations hoped justice would be delivered no matter how long it takes just like the way justice was delivered into the killing of Bangabandhu Sheikh Mujibur Rahman, and justice is being delivered against war criminals.
"The rally that came under attack was not merely a programme organised by the CPB. It was a gathering of students, youths, farmers, labourers, and intellectuals believe in progressiveness. The rally was also blessed with spontaneous attended of general people," said a press release issued by CPB quoting its president Manjurul Ahsan Khan.
On January 20, 2001, a CPB conference at Paltan ground came under bomb attack, killing Himangshu, Hasem, Majid and Mokter instantly while Bipradas Barua, later succumbed to his injuries at hospital.
"Communal force resorted to bomb and grenade attacks only to destroy the progressive spirit and kill non-communal atmosphere," the press release also quoted its general secretary Mujahidul Islam Selim.
Earlier, CPB placed wreaths at the makeshift memorial of the martyrs of Paltan bombing.
Workers Party of Bangladesh President Rashed Khan Menon, lawmaker Fazle Hossain Badsha, BNP acting Secretary General Mirza Fakhrul Islam Alamgir, JSD general secretary Sharif Nurul Ambia, BSD general secretary Khalequzzaman, Pankaj Bhattacharya of Gono Oikya Committee, and Jonayed Saki of Gonoshanghati also present on the occasion.
Separate organisations also placed wreaths at the memorial.