Stocks lose 3pc in choppy trade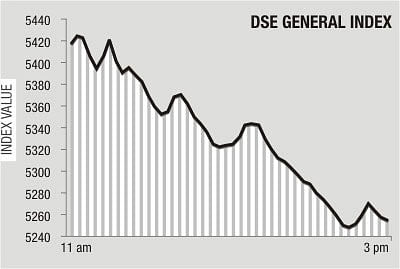 Stocks declined 3.03 percent yesterday amid investors' apprehensions that the economy may face fresh troubles and speculations over a fresh move to tighten monetary tools to control inflation.
The benchmark General Index (DGEN), the gauge of Dhaka Stock Exchange, declined 164 points to 5,253.47 at the 3pm close.
"Investors refrained from investing anew following the warning of a trade body on the liquidity crisis, high inflation and low forex reserve," said Akter H Sannamat, a chartered accountant and market analyst.
Sannamat said a group of investors sold off their holdings fearing that the central bank may take further action to control inflation.
Investors stepped back to see how the market would react to any tightened monetary policy and economic gloom in future, LankaBangla Securities said its daily market analysis.
"It is a rumour that the central bank may tighten the monetary policy for January-June 2012," said Fakhor Uddin Ali Ahmed, former president of Chittagong Stock Exchange.
The market started the day with a straight downward trend as buyers were offering much lower prices than the previous day's closing level.
Of the total 265 issues traded on the DSE: 12 advanced, 245 declined and five remained unchanged.
Turnover declined 12.4 percent, compared with the previous day. A total of 1.43 lakh trades were executed, generating a turnover of Tk 538 crore where 10.63 crore shares were traded.
Grameenphone topped the turnover leader with 15.39 lakh shares worth Tk 27.41 crore changing hands.
Information Services Network rose 4.11 percent to become the biggest gainer of the day. Kohinoor Chemicals was the worst loser, slumping by 8.44 percent.
Among the major sectors, non-bank financial institutions lost the most, declining by 4.3 percent.
The Chittagong Stock Exchange declined yesterday with the Selective Categories Index losing 269.64 points or 2.72 percent, to end the day at 9,632.53.
Losers beat gainers 187 to eight with five securities remaining unchanged on the port city bourse. More than 1.17 crore shares and mutual fund units were traded with a value of Tk 56.01 crore.