Suu Kyi, Hague in tune on lifting Myanmar sanctions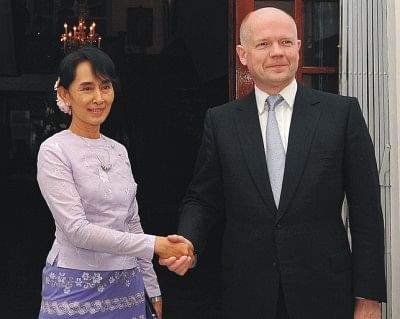 Foreign Secretary William Hague and Myanmar's pro-democracy leader, Aung San Suu Kyi, set out similar conditions for the lifting of sanctions imposed on the country under the previous military regime at an historic meeting yesterday.
Western countries are cautiously renewing ties with the civilian government in place since last March and Hague, in the former Burma for a two-day visit, has set out four conditions for the easing of sanctions.
Those are the release of hundreds of political detainees, an end to human rights abuses by the army, an effort to resolve ethnic conflicts and the holding of free and fair elections.
Asked at a news conference what she wanted to see before sanctions should be lifted, Suu Kyi referred to what Hague, standing beside her, had said the day before.
"All political prisoners should be released and there should be all efforts made to put an end to all ethnic conflict within our country. Certainly we would want to see free and fair by-elections," she said.
The news conference was held on the lawn of Suu Kyi's lakeside home, where she spent years under house arrest until her release days after a general election in November 2010.
"I hope we're at a stage where we can say a long-held dream now has a chance of being realised, but there's so much work to be done. The long darkness in which the people of this country have lived may be coming to an end," Hague said.
"I think they're sincere, particularly the president," Hague told the news conference.
He is the first foreign minister from the former colonial power to visit Myanmar since 1955. The army seized power in a 1962 coup.
The new civilian administration quickly embarked on political and economic reforms last year, to the surprise of many, given the number of former junta officials in its ranks.
Other developed countries are cautiously seeking to engage with Myanmar's new rulers, keen to improve living conditions in the country but also to let their companies invest in its rich natural resources, which are already being exploited by Asian countries such as China, Thailand and India.
Suu Kyi, the daughter of the leader of the campaign for independence from Britain, is important because of her influence at home and abroad.
Analysts and diplomats say that if she withdrew her long-standing support for sanctions, that would make it easier for Britain and others to scale down the embargoes.
Suu Kyi has recently shown a willingness to compromise and plans to run for parliament in by-elections on April 1.
US Secretary of State Hillary Clinton made a landmark visit to Myanmar late last year, seeking the same reforms and offering similar concessions.
On Thursday, the European Union said it planned to open a representative office in the main city, Yangon.