Comilla CityElection 2012
Comilla city polls today
Candidates fear chaos, allege use of black money; first polls with full use of EVM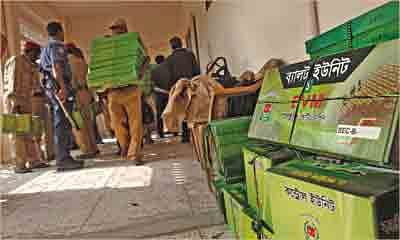 Voters go to the maiden Comilla City Corporation polls today amid fear of chaos and allegations and counter-allegations by candidates regarding distribution of money to influence voters.
Polls open at 8:00am and close at 4:00pm without any break. Voters will cast their ballots through electronic voting machine (EVM) in all 65 centres. This is for the first time in the country that all voters in an election will use the voting machine.
A total of 1, 69,273 voters, including 86,074 females, are on the voters' roll to elect their first-ever city mayor from among nine candidates and 36 ward councillors, including nine reserved female councillors' seats, from among 287 contestants.
The two leading mayoral candidates are Afzal Khan, who is backed by the ruling Awami League, and Monirul Hoque Sakku, backed by Nagorik Committee. Both of them are confident of victory.
However, the fear is that tension will run high in the "risky" centres, especially those near the houses of the candidates with past criminal records.
At least 70 candidates, including the two mayoral frontrunners, have a past tainted with criminal history, according to election officials and the candidates' affidavits submitted to the Election Commission (EC).
The EC has identified 47 centres as vulnerable and has taken special measures to ensure peaceful voting in those centres, election officials have said. All the 65 centres will be kept under webcam surveillance.
Sixty-five presiding officers, 421 assistant presiding officers and 842 polling officers will be on election duty.
Returning Officer Abdul Baten said the authorities were alert to the possibility of sabotage and that they had already foiled an attempt at "subversive acts" by arresting two people.
Police and Rab arrested at least seven people for their alleged involvement in distributing money to influence voters at Ranibazar in the city yesterday.
A mobile court jailed three of them for two months each on charges of distributing money to woo voters to vote for Sakku. The three are Abul Kalam Azad, Abdur Rashid and Dulal.
Sakku, however, denied his involvement with the incident and termed it "propaganda" against him.
The returning officer himself intercepted a private car at Dharmapur yesterday and challenged the passengers who identified themselves as journalists of Prime Minister's Office but failed to produce their identity cards.
Senior Judicial Magistrate M Syedur Rahman Gazi sentenced two of them -- Towhid Hasan and Imran -- to six months' imprisonment each on charges of their attempt to carry out "subversive acts".
Documents recovered from the two include a list of criminals of different wards, councillor candidates, city's prominent people and voters.
Meanwhile, Sakku yesterday alleged that a conspiracy was on to occupy some polling centres to keep voters, particularly women, from voting.
He also alleged that some policemen and the supporters of his opponent were intimidating his men.
His rival Afzal Khan, however, expressed satisfaction over the role of the local administration and the EC.
But Noor-ur-Rahman Tanim, a rebel mayoral candidate from AL, accused the administration of bias.
"Some people in the government are out to make the election controversial. They are harassing my supporters and activists by police," he told at a press conference at his house last night.
Jatiya Party-backed mayoral hopeful Ahmed Selim said that Sakku was violating election codes.
Afzal is scheduled to cast his ballot at Modern School centre, Sakku at Shoilo Rani Govt Primary School and Tanim at Monoharpur Govt Primary School.
Election officials said 1,200 Rapid Action Battalion (Rab) personnel, more than 2,000 police members, 150 members of Bangladesh Border Guard and Armed Police Battalion, 27 executive magistrates and nine judicial magistrates will work throughout the day to ensure free and fair voting. They will be on election duty till tomorrow.
They added they would take additional measures to maintain calm in and around the risky polling centres.