<i>Small mistake, great loss</i>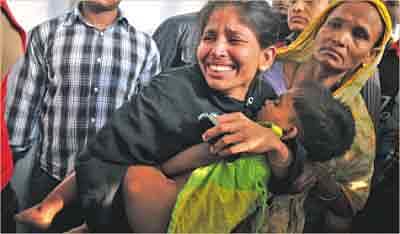 Rozina Begum made the worst mistake of her life yesterday. She left her toddler outside the ward to see the doctor yesterday. When she came out, she didn't find the kid in the waiting room where she had left her.
Some two hours later, the body of the two-and-a-half-year-old girl was found lying on the staircase at the Dhaka Medical College Hospital some 200 yards off the waiting room.
The death of Ishrat Jahan Riya, daughter of Rozina from Badda Nagar in the city's Hazaribagh area, is shrouded in mystery.
The identity and the motive of her killer could not be known.
Tears rolling down her cheeks, Rozina described how she had lost her child while visiting the gynaecological outdoor section of the DMCH at around 10:30am.
As she moved toward the ward, a woman, reportedly a hospital maid, advised Rozina to leave the child outside, in case Ishrat got noisy or caused disturbance.
On her advice, Rozina left her daughter in the waiting area and went for a check-up which lasted about 25 minutes.
Emerging from the ward, she found her daughter missing and searched around the hospital in vain.
She then informed the DMCH authorities and sought their help.
At around 11:30am, the hospital authorities through loudspeakers requested hospital visitors, officials and doctors to report to them should they find the girl.
At about 1:00pm, a security guard reported that a child had been found on the second floor of the 11-storey Centre for Nuclear Medicine and Ultrasound building.
Prof Md Sanowar Hossain, director of Centre for Nuclear Medicine and Ultrasound, said the child was found on the second floor staircase, which is a quite deserted area.
Police sent the body to the DMC morgue for autopsy.
On preliminary examination, morgue officials found some injury marks in Ishrat's abdomen.
Police said she might have been killed by kidnappers who initially tried to take her away.
The DMCH authorities had hoped to get a clue about her killers from CCTV footage. "But after an extensive search, nothing could be found from the footage," said DMCH Director Brig Gen Shahidul Haque Mallik.