Flood management: Reducing vulnerability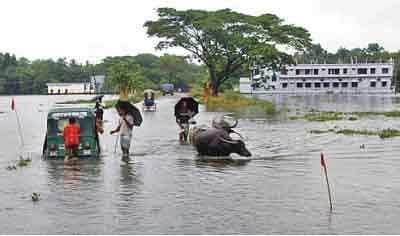 From all the available information and data, it can be predicted that frequency, intensity and severity of flood would be increased in Bangladesh in future. Indeed all disasters affect the whole community. But the rich people generally are not affected by the natural calamity; if they are affected hardly ever, they can recover their losses personally or by using the social and state power. By taking this into consideration, we should give utmost attention to the less fortunate; generally disaster is accentuated by the poverty in their life.
In the last two decades, the NGOs have experimented several types of preparedness activities at the community level to combat flood to reduce the damages caused by it; though there is a significant scope to confirm that most of the preparedness initiatives at community level are not new, rather the people living in the areas prone to disasters have developed some techniques and mechanisms traditionally with wisdom of the families who experienced natural calamities, and some interventions known as popular science have been used in reduction of damages, vulnerabilities and risks of disasters.
Yet it can be said without any shilly-shallying that all kinds of initiatives taken by the GO and NGOs are increasing day by day in this land to combat flood, nevertheless any permanent way out from the severity of the deluge remaining beyond our imagination.
Now it is time to find out the root causes of the gloomy story. Neither from the eye of the academician, nor from the judgment of policy analyst, rather from the experience of grassroots involvement, can we articulate some prime limitations of the initiatives that can be expressed as lack of learning from the strategy of the people to combat disaster.
Presently three schools of thought are found all over the world for flood disaster management.
First is to combat flood with the aim of food security. Second school is living with flood. And third one is to reduce the damage to lives and assets caused by flood, which would ensure normal livelihood of the people.
Analysing the school of thoughts, it can be concluded that structural measures, i. e. dam, groin, barrage and other infrastructure can protect the settlements as well as agricultural field which will ensure the livelihood as well as food security.
It can be stated without any deep scientific analysis that riverine Bangladesh surrounded by thousands of rivers and canals cannot be fenced by the dams. It is feasible neither physically nor economically. This initiative may create other troubles like water logging. In 1960's, the then government implemented the coastal embankment project. Altogether 4000 km of high embankments with 780 sluice gates were built under the project. This resulted in a sudden increase in rice production in the region. Farmers were able to harvest two or even three bumper crops per year. The temporary drainage congestion, which first appeared in 1982, gradually turned into permanent water logging and reached such an extent that, by 1990, an area of 100,600 hectares was permanently water logged.
Ignoring the people's indigenous knowledge, in some cases exotic technology might be unsuccessful to achieve the aim. There are many examples. In 2004, Bangladesh water development Board (BWDB) took an initiative to build earthen embankment on the west side of the Padma River in Faridpur district. Public opinion manifested immediately that such embankment could not contain the river erosion, even the dam would not be able to sustain itself. But BWDB started the work in mid June and expended upto Taka 200 million. Unfortunately, the embankment broke down within a month of construction. Another example might be relevant to understand the futility of this school of thought. Bangladesh Water Development Board, Dhaka Water Supply Authority and Dhaka City Corporation implemented the "Integrated Flood Control Project" at cost of Taka 3500 million. But in 1998, 74 wards (administrative zone of City Corporation) had been flooded out of 90 of Dhaka city.
There is another scenario of dam and embankment dependent flood protection initiatives. Although all the dams are built in such a way that they could sustain the heavy pressure of water, but it is fact that breakdown of dam is a common event in our country and it also happens because of corruption in construction work. Due to oversiltation riverbed gradually rises and the dam built on the bank of the river loses its effectiveness.
Unfortunately flood control initiatives through structural measures has been fabricated in people's mind in such way that now most of the people living in the areas prone to flood believe that dam and other similar infrastructure could relieve their distress caused by flood. The writer conducted a study on the vulnerability of remote chars of Dewangonj Upazila. The study revealed that people of all the villages were for embankment to contain the flood and river erosion.
Followers of the second school believe that all sorts of controls on nature by human beings should be relinquished and the nature should run in its own way. According to this view water should flow on in its own course, keeping the flood plain on its two sides water-fed. As a result, formation process of land will get enhanced through siltation during flood period when the riverside flood plain will be inundated. In this context it is very important to keep in mind that formation stage of Bengal delta has not been completed till now and that normal formation course of the delta should not be hampered. Furthermore, production of fish would continue as a natural process. In addition, through the natural process ground water refilling would also continue.
Non-government organizations introduced and shaped the thought of the third school. The prime concept of this thought is to reduce the damage of lives and assets, in other words alleviate the adverse impact caused by flood in order to continue the normal livelihood and development process. Though the concept and practice are highly praised by all stakeholders, yet there are some criticisms.
Many studies revealed that carrying over the preparedness activities to face flood in a certain community for a long time made it more dependent. It could not come out from the dependency on relief and rehabilitation support during even low intensity flood. The dream of building disaster resilient community has not yet been proved realistic.
Analysing the first school of thought it has been revealed that siltation on the riverbed is increasing, as a result riverbed is rising increasing the chance of flooding. Infrastructures i.e. dam, embankment, spur etc on the riverbank are considered as protection measures, adjacent to the major district and sub-district towns. Sustainable infrastructures could be constructed and people's opinion and participation should be ensured in planning, implementation and maintenance phases of any kind of initiatives.
Besides, short-term and long-term risk reduction action plan will have to be developed based on the assessment of community risk. The assessment of community risk should be the basis of the planning process for national annual development.
And people opine that NGOs' efforts would be sustainable if they run their programme considering the disaster risk reduction strategy. To reduce the vulnerability and damages caused by disasters, economic capacity of people of the disaster prone areas needs to be strengthened.
The writer is working in a non-government development agency on disaster risk reduction. [email protected]