IUBAT Third Convocation Held
Don't make education a commodity
Hasan Mahmud urges universities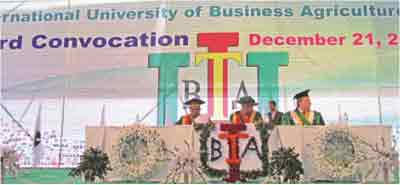 Environment and Forest Minister Dr Hasan Mahmud yesterday urged all universities, both public and private, to impart quality education and advised them not to make education a "commodity" in the greater interest of the nation.
Speaking at the third convocation of the International University of Business Agriculture and Technology (IUBAT) at Uttara, he urged the universities to include practical education in their curricula as compulsory subject so that students acquire knowledge of reality alongside book- based learning.
The minister said the country needs skilled, hard working, patriotic citizens imbued with human values to fulfill the goal of independence, which is yet to be fully achieved after 40 years.
Prof Dr Gerald Reisinger, president of University of Applied Sciences, Austria, addressed the function with IUBAT Vice-Chancellor Prof Dr M Alimullah Miyan in the chair.
Members of the diplomatic corps, educationists, graduating students and their parents and the local elite were present.
The minister urged the students to be aware of the challenges and opportunities of the 21st century, saying that the advancement of Information and Communication Technology has brought enormous opportunities in the field of knowledge and workplace.
"I believe, with your intellect, talent, creativity, determination, honesty and patriotism, you will implement the government's Vision-2021 to build an information technology-based prosperous Bangladesh and take our country to a much higher place among the nations of the world," he observed.
South Asian Disaster Management Centre of IUBAT is regarded as a centre of excellence for work related to disaster, environment and climate change, he said.
Since the formation of its Centre for Policy Research, Dr Hasan said, the centre is conducting advanced research works and seven research monographs have been published concerning policy issues pertinent to Bangladesh.
He said IUBAT students are required to have exposure in general education involving languages, computer skill, physical and social sciences as well as humanities so that they can develop as complete human beings and flourish in their own fields.