PM for legally binding accord on greenhouse emission cuts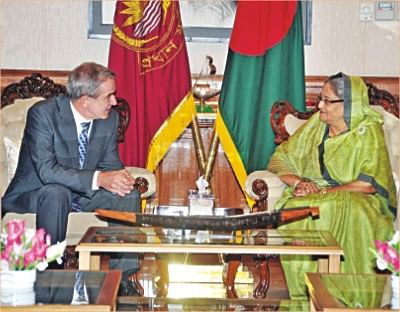 Prime Minister Sheikh Hasina has called for formulating a legally binding agreement on specific greenhouse gas emission cuts in the Durban summit on climate change.
The prime minister made the appeal when the visiting Chair of the standing committee on environmental affairs of Danish parliament Steen Gade paid a courtesy call on her at her official residence Gono Bhaban yesterday.
The premier's Press Secretary Abul Kalam Azad briefed newsmen after the meeting.
Voicing her concern over the impacts of global warming on Bangladesh, Hasina further stressed expeditious activation of the Green Climate Fund in the 17th Conference of the Parties (COP17) in Durban.
"We want to have clarity on financial commitments for the period 2013 to 2020," she said while appreciating Denmark's support in facing the adverse impacts of climate change.
She said the least developed countries should have access to affordable and eco-friendly technologies.
Gade praised Hasina's role in establishing the right of the countries most vulnerable to the climate change.
He expressed keen interest in investment in the field of solar energy and bio-technology.
Welcoming his government's interest, Hasina sought Danish cooperation for the development of rail and waterways in Bangladesh.
She also invited Danish investment in shipbuilding industries in Bangladesh.
Ambassador at large M Ziauddin, Principal Secretary to the PM Sheikh M Wahid Uz Zaman, the PM's Press Secretary Abul Kalam Azad and Danish Ambassador to Bangladesh Svend Olling were present.