Bangladesh-Pakistan One-off T20 Today
Cautious favourites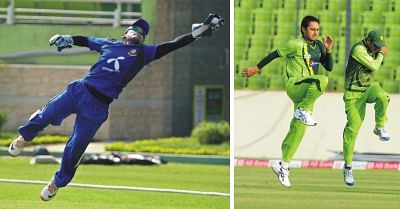 There would be nothing wrong if Pakistan declared themselves clear favourites against hosts Bangladesh in all three formats of the game in the series which will kick off with the one-off T20 International at the Sher-e-Bangla National Cricket Stadium in Mirpur today.
But things do not always unfold as expected. In their approach Bangladesh have understandably toned down their voices while discussing their chances in possibly the year's toughest assignment against an in-form Pakistan, regardless of whether they are playing in their home conditions. But it was curious to find the Pakistan tent talking more humbly than their opponents.
Pakistan's recent form suggests that the Tigers need to give more than a hundred percent if they want to throw up a challenge, but the tourists seem to be playing a different sort of mind game with their soft-spoken stance since arriving in Dhaka.
Pakistan, who are going to play their fiftieth T20 match today, has a staggering record in the shortest version of the game with 30 wins in 49 games but still the interim coach Mohsin Khan showered praises on the Tigers while talking at the pre-match press conference at Mirpur yesterday.
"Definitely, Pakistan has done pretty well in T20 cricket and is one of the top teams in the world. But we have a lot of respect for Bangladesh cricket, their talent, their calibre. The Bangladesh cricket team is coming up very fast and our best wishes are with them. We cannot take Bangladesh lightly in any form of cricket," said Mohsin Khan.
"On previous tours I have been giving a message to my team that there's no team in the world you can take lightly, whichever format, whether T20, ODIs or Test matches. As you said, we might start favourites, but T20 is a very funny game; the whole scenario can change within an over or two. So we have to take it very seriously, and we are hoping for a very good game tomorrow (Tuesday) against Bangladesh," he added when asked whether they consider themselves favourites in the match.
Praising his team's performance in the recent series against Sri Lanka, the Pakistan interim coach however wanted to look forward to the new challenge against Bangladesh.
"Pakistan's performance against Sri Lanka was very good, in all three forms of the game. We will all try to replicate that performance against Bangladesh. But as we say in cricket everyday is a new day. What happened in the past is gone. We have to look for today and tomorrow. We feel today that we have a tough opposition, so we will try and play at our full potential and honestly speaking we will not take Bangladesh lightly in any form of cricket," he cautioned.