Born to act
In conversation with Monira Mithhu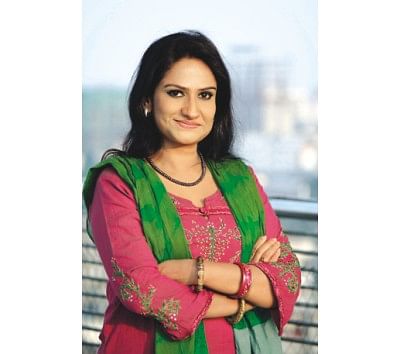 With her seemingly inherent acting prowess, Monira Mithhu has achieved fame and popularity in a short span of time. The talented actress also works in films now, along with TV plays. The Daily Star (TDS) recently caught up with the star.
How did you get into acting?
Mithhu: I began my acting career with the Humayun Ahmed TV play, "Openty Bioscope" in 2001. It was aired on Eid on Ekushey Television. The late actor Challenger, my elder brother, encouraged me the most to act.
The story behind my debut: Humayun Ahmed was looking for someone to play a minor role in "Openty Bioscope", and he asked Challenger bhai whether he knew someone suitable for the role. My brother recommended me, and I was called for an audition. When I went there, Humayun Ahmed asked the makeup artiste to give me a bright makeup. That's how I first stood in front of the camera, and gradually became entangled in the world of reels.
After your debut in a minor role, what other works did you do?
Mithhu: I went on to work in Humayun Ahmed's serial "Nil Towale", and eventually in the movie "Chandrakotha", in which I was cast in an important role. My work schedule continued to become heavier with more and more offers from other directors. I was offered a role in "Sheikh Abdur Rahman-er Atto-Jiboni", a play directed by Shoraf Ahmed Jibon. The late poet Abdul Mannan Syed played my husband in the drama.
Your performance in "Spartacus Ekattor" received much praise. Tell us about that.
Mithhu: That particular character is one of my favourites. You could also say it was a turning point in my career. In "Spartacus Ekattor", I played the mother of twins, both freedom fighters, who were killed by Pakistanis and their collaborators during the Liberation War.
The drama also spawned a sequel, titled "Emon Deshti Kothao Khujey Pabey Nako Tumi". The sequel followed the fate of the mother, 36 years after the war. I'm very grateful to Mostofa Sarwar Farooki and Redwan Roni for giving me that opportunity. While shooting for "Emon Deshti…", I felt like a mother who had really lost everyone and everything she held dear in a war. That performance fetched me much appreciation and praise.
Which are your favourite plays?
Mithhu: "Spartacus Ekattor" and "Emon Deshti…" remain two of my favourites. Other works that I like include "Houseful", "Bikol Pakhir Gaan'" and "Bua Bilash". I also like several plays directed by Humayun Ahmed.
What films did you work in, apart from "Chandrakotha"?
Mithhu: I acted in "Ek Cup Cha", produced by Ferdaus. I also acted in "Gohiney Shobdo".
What are your ongoing projects?
Mithhu: ATN Bangla is airing "Coming Soon" by Shoraf Ahmed Jibon. The same channel is also broadcasting "Putul Khela" and "Chand Phool Omaboshya", where I play a glamorous role, something I had never done before. Channel i is airing "Choita Pagol", Boishakhi TV is airing "Baatpar" and ntv is airing "Terminal". "Moina Todonto" is currently running on Ekushey TV, while Rtv is airing "Jhornar Gaan". New serials featuring me are also in the pipeline and will hit the air soon.
Many credit you with having inborn, effortless acting skills…
Mithhu: I was -- and am -- an ardent reader, and I think this habit has helped me with my acting. Some of my skills are inborn, while for the rest, I do a lot of homework.
What are your aspirations?
Mithhu: I don't dream big or have a lot of expectations. But I want to work like true artistes such as Dilara Zaman, Sharmili Ahmed or Dolly Zahur. They are my idols. Other than that I'm happy with whatever I get from my journey in this medium.