Rights of street children: Moving beyond rhetoric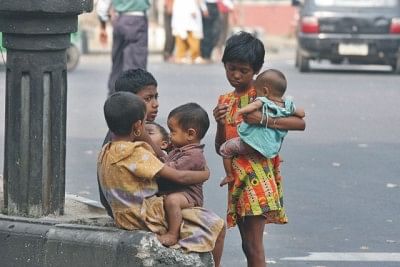 Established by the UN in 1954, Universal Children's Day is observed on November 20th every year to promote mutual exchange and understanding among children and to initiate action to benefit and promote the welfare of the world's children. It was also chosen as the day to celebrate childhood. Our attention is drawn to a particular vulnerable categorystreet children. Often appearing on the margins of social policy and state actions, this silent category is very much part of the rights discourse in development and governance.
Street children are a creation of rapid urbanisation and its concomitant aberrations. Growing spatial inequities, dwindling farmlands and the glamour of cities have ushered in millions into world's urban spaces, and in the process radically redefined the character of cities and continue to pose formidable challenges to planners and policy makers. It is now predicted that by 2030, the total urban population globally will be 4.9 billion, which is expected to be roughly 60% of the total population. And in developing countries, there is a major subtext to this story youth will account for a large proportion in this demographic transition. This "demographic bulge" is seen both as a potential problem as well as a future resource.
Our definition of street children follows the widely accepted conceptualisation by Unicef, which is: "Boys and girls aged under 18 for whom "the street" (including unoccupied dwellings and wasteland) has become home and/or their source of livelihood, and who are inadequately protected or supervised." The increasing number of street children is also an expression of the negative impact of globalisation on the poorest of the poor. Globalisation fosters urbanisation, including the promises of a better life in the cities with less hardship than in the countryside.
The loss of traditional family values and the adoption of individually shaped urban life often create a desire for "streetism." The subculture of the street can in some cases become a substitute for community life for children. The street can be a place of exclusion and marginalisation but also a place for socialisation and integration. On this Universal Children's Day, it is only appropriate that we re-imagine the city through the lens of this extremely vulnerable group.
Statistics quoted for Bangaldesh in the 2007 State of World's Street Children by the UK-based Consortium for Street Children reveals some shocking statistics. 400,000 children are thought to live on Bangladeshi streets. Up to 29,000 of them are victims of prostitution; 50% to 75% are girls. Child sex workers are excluded, branded as outcasts by their communities, abused and exploited by street vendors, gangs and police. Few services are available to these children in Bangladesh.
Most policy responses to address the potential and challenges of urbanisation are focused on issues like infrastructure, population, pollution, economy etc. Equal, if not more, critical issues are often ignored. This bias in priority has had a significant impact in the way the issue of vulnerabilities in urbanisation have been addressed. A case in point is the vulnerability of street children, a profile that is quite often rendered invisible in policy formulations and affirmative state actions.
This article is based on an ongoing research at the Institute of Governance Studies that explores the multifaceted links between urbanisation and child vulnerabilities. Both secondary research and primary interviews reveal that there are some dominant themes underlying the growing number of street children in cities like Dhaka. One of the major reasons is abandonment by parents which, in turn, is mostly an effect of debilitating rural poverty and disrupted family ties in an urban ethos. However, there are other issues like lack of responsibility among parents, family breakdown, dislocation through migration and urbanisation etc.
An exploration into some of the specific vulnerabilities highlighted some crosscutting issues faced by the street children, such as malnutrition, hunger, abuse, sexual exploitation, drug addiction, drug trading, trafficking etc. These vary according to gender and age. While children at a younger age face physical beating and underpayment by employers, children just before or after attaining puberty are extremely prone to sexual harassment. Here's one voice echoing a reality: "When I was only seven, I ran away from home and ended up on the streets; men asked me to sleep with them for a few taka only." It is a taboo subject in Bangladesh, which makes it even harder to study and understand. Still, the topic comes up regularly in discussions with girl children. Interestingly, boys are also very highly prone to sexual exploitation.
The other issue which comes up constantly is physical abuse. Since girls tend to be employed more as domestic help than boys, they run the risk of being physically and verbally abused by their employers, which causes extreme mental trauma. One of the girls interviewed could not hold back her tears while giving examples. She said: "Only at the age of seven, I was expected to take care of cleaning, dishwashing, sweeping and all sorts of hard work; if I failed to do anything, I was beaten so hard that sometimes they left scars on my body." On the other hand, since boys are more exposed on the street and are engaged in professions like brick breaking, day labour, van pulling etc. they run a higher risk of being trafficked and getting involved with drug dealing and drug addiction.
A review of the National Child Policy 2011 reflects that no comprehensive coverage is given to street children, though certain policies are targeted towards girl children in general. There is a compelling need for the Policy to be sensitive towards this vulnerable segment, and for appropriate revisions and amendments to the provisions. Street children need to be distinguished but not isolated from other children in policy frameworks. In many ways, the Policy seems to follow existing stereotypes and scarcely makes an attempt to listen to real voices from those who are affected.
Street children inhabit a very complex world, surrounded by help agencies, law makers, law enforcers and also, law breakers. In particular, state interventions need to take into cognisance issues like child rights, police powers, legal aid, HIV-related vulnerabilities and the like.
The state of street children can be improved if funds are made available for their issues. Since poverty is one of the major reasons , extremely poor families may be subsidised to reduce abandonment rate. Help agencies working for these children can also function more efficiently if they are assisted by the government as well as by the local community, for which mass awareness is a very important tool. It is a striking contradiction of sorts that while street children often end up as "cannon fodder" for political unrests and violence, there is no political space for them to articulate their needs and concerns.
2011 has been a very eventful year for those working for street children. On March 25th, the United Nations Human Rights Council (UNHRC) adopted a historic Resolution on street children. The Resolution draws attention to the gender aspect and the issue of early pregnancies and 2nd generation street children; highlights the issue of HIV/AIDS, prostitution, and the importance of building relationships of trust and empowerment, and participation (unusual language for a UN Resolution); urges states to ensure street children's rights through integrated national child protection strategies with realistic and time bound targets and sufficient financial and human resources for their implementation; uses groundbreaking language when calling on states to ensure universal and free birth registration (in previous resolutions there has always been a reference to "minimum cost"); recognises the importance of supporting families and other caregivers' capacities; and calls for an end to impunity for violators of street children's rights and the criminalisation and stigmatisation of street children.
Bangladesh does not figure in the list of countries which sponsored this resolution, despite being a member of the UNHRC; Sri Lanka is the only South Asian country to sponsor the resolution. In many ways, this reflects the lack of political sensitivity towards this critical and future defining issue. And on this occasion, as the world recognises the potential of our future citizens, we pause and reflect on a growing but silent and disempowered category called street children, who perhaps will play a defining role in shaping the landscape of our future.
The writers work at the Institute of Governance Studies, BRAC University.