Dreadful land development
Inhabitants of city suburb living in fear of being evicted; developer fined Tk 50 lakh by mobile court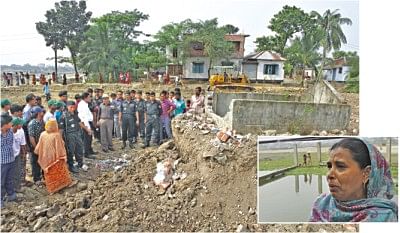 Many inhabitants of Holan and Ashkona in the capital's suburbs have been living there for decades, others for generations.
But they are now living in fear of eviction, as land in their Dakkhinkhan neighbourhood has become a lucrative commodity for housing companies.
It is not, however, only their homesteads and croplands that are being either forcibly purchased or grabbed by a "land developer".
Ashiyan City, the land developer, has even filled up a two-hundred-year-old graveyard in the area, where, locals say, some of their ancestors are buried.
Against this backdrop, local residents are now on a frantic search for places to shift their forefathers' graves from their homesteads, as Ashiyan City continues to expand its housing project.
On receiving information, a team of the Department of Environment went to the company's Ashkona site to conduct an eviction drive yesterday. Many people spoke of their frustrations before the team.
Many wept and wailed as they described how the company had forcibly filled up their croplands.
They also narrated how some local goons and middlemen hired by the company were intimidating and threatening them for not selling their land to the company.
Munir Chowdhury, director of DoE's monitoring and enforcement division, led the team, which found the allegations to be true and fined the company Tk 50 lakh.
It also ordered Nazrul Islam, managing director of the company, to save the graveyard.
Accompanied by members of Rapid Action Battalion, the team also confiscated eight bulldozers and six dumper trucks Ashiyan had been using to knock down structures and fill up the land.
A member of the team said the land developer was expanding its project at will. Ashiyan has permission for a 55-acre project in the area but its project area now covers around 230 acres, he added.
Locals say the company has been offering them Tk 5 to 20 lakh for each katha of land.
"But it sells the land for at least Tk 60 lakh a katha. So this is very good business, and they can 'buy everybody' they want," said a local resident who preferred anonymity.
"Some lands were just grabbed by Ashiyan City."
Among those whose lands were allegedly grabbed are Amena Begum, Shohor Banu, Majeda Begum and Momena Begum of Holan village. Each of them lost three to 10 kathas of land, people told the DoE team.
In the same village, Ashiyan City has knocked down the boundary wall of Mahbuba Sultana's home and snapped the water pipeline of Momtaz Begum, as the two refused to sell their lands.
Haji Lehajuddin of Ashkona alleged the company had filled up 1.16 acres of land in his homestead.
"Even the local representatives are working for the company," said an elderly man, who spoke anonymously for fear of retribution.
"They keep telling us," he said quoting local representatives and middlemen, "you should sell your homesteads as you cannot fight them [the company] for long. They have strong connections with the government and they can do anything they like."
However, Zulfikar Ali Babul, site manager of the company, said the firm knocks down an establishment only after buying the land.
"We don't threaten anybody. But some middlemen might do it," he added.
Asked about the graveyard, he said the company had given the locals Tk one lakh at a village arbitration to shift the graveyard.
Gole Akhter of Holan told this correspondent that in the face of threats from middlemen, she is now struggling to save her house she has been living in since her marriage 40 years ago.
"I don't want to sell my home. They might take my cropland which they have already filled up. But not my home," she said.
"I met Sahara Khatun [home minister and also lawmaker of the constituency] and cried holding her hand. But she is doing nothing," Gole Akhter added.
Locals say union parishad members, chairmen and even police do not help them in saving their homes.