"Manush Manusher Jonno …"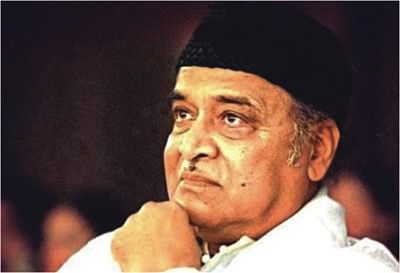 The composer of this song, Dr. Bhupen Hazarika died on 5 November 2011 at the age of 86. He was not only the greatest cultural icon of Assam, but also the region's biggest cultural ambassador. His music echoed beyond borders. He was a multifaceted genius. He was at the same time a poet, a music composer, a singer, an actor, a journalist, an author and a film-maker of the very highest order. It is said that he wrote and composed over 1,000 songs.
However, few know that 'Mera Dharam, Meri Maa', the first Hindi film in color of Arunachal Pradesh, was produced, directed as well as its music composed by Hazarika.
It is very interesting that he was involved in the progressive movement since his adolescence; he wrote and composed masterpieces with social consciousness as its main message, which are in striking contrast to his famous love songs.
In a poll conducted a few years ago in Bangladesh, his song, Manush Manusher Jonno (Humans are for humanity)' came out to be the second most favourite number after our national anthem. We mourn at the death of Dr. Bhupen Hazarika.