Cattle prices fall but yet high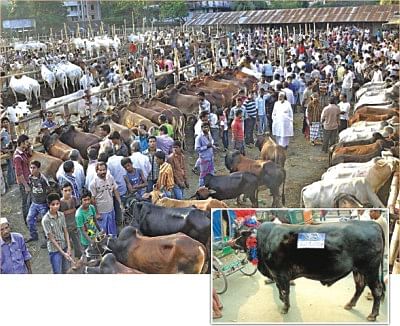 A day before Eid-ul-Azha, the sale of sacrificial animals in all the 15 cattle markets in the city, including the permanent one at Gabtoli, has gained momentum.
Though traders yesterday were charging prices for their cows a little lower than they did Friday, the prices, especially of cows, were still higher than those of last year.
Both buyers and sellers were disappointed with the prices despite the arrival of a huge number of cattle in the markets yesterday.
"I have purchased a cow for Tk 55,000, which is around Tk 5,000 higher than that of the last year's price. The price, however, is lower compared to that on Friday", said Monir Ahmed, a resident of Chankharpool, who bought the cow from Nayabazar cattle market.
Mohammad Kalu, a cattle trader at the market, said he had brought 16 cows from Kushtia and sold four of them, earning a profit of about Tk 5,000 for each.
"I am still waiting for more profit on the last day (today) before Eid as I hope that a huge number of customers will crowd the market". He said this year there was a chance for him to recover the Tk 1 lakh loss he suffered last year.
Selimul Alam, a resident of Mirpur, said, "I went to the Gabtali cattle market on Friday but returned without buying a cow due to the high prices. On Saturday, I observed relatively low prices but I am waiting for the prices to fall further, as they are still higher than last year's".
As in previous years, specially bred Mirkadim cows were on sale at Rahmatganj playground in Munshiganj. Over 100 cows of the Indian species arrived this year. The number of the cattle was about 250 last year.
Goats
To buyers' surprise, Mamun, a trader at Nayabazar cattle market, yesterday asked for Tk 3 lakh for a giant goat, which he said, was a Pakistani species.
"I have reared the goat, weighing around 2.5 mounds (100kg), for about three years and now am demanding Tk 3 lakh for it. I have already been offered Tk 1.40 lakh", he said.
According to buyers, the prices of goats are a little higher than last year's.
"I have bought a goat weighing around 30kg for Tk 16,000 from the market, which is Tk 2,000 higher than last year's", said Milon Hossain, a buyer from Keraniganj.
Meanwhile, the leaseholders of different makeshift cattle markets are still occupying roads, violating a High Court order and resulting in huge traffic congestion. Almost all the lanes in Nayabazar and Armanitola have turned into cattle markets.
The authorities of Nayabazar also are charging 6 percent as Hasil (charge that buyers pay on the purchasing price), though the Dhaka City Corporation has fixed it at 5 percent.
"I deposited Tk 1,560 at the counter-16 against a cow of Tk 26,000, which should have been Tk 1,300", said Mizanur Rahman, a resident of Sutrapur.
Khalil Ahmed, executive magistrate, DCC, said, "We have fined the Nayabazar authorities Tk 20,000 for charging 6 percent as Hasil". He added that the DCC also had fined the Kamalapur cattle market authorities Tk 20,000 for occupying the streets to sell cattle.