Barclays English Premier League
<i>Balotelli face of fireworks safety</i>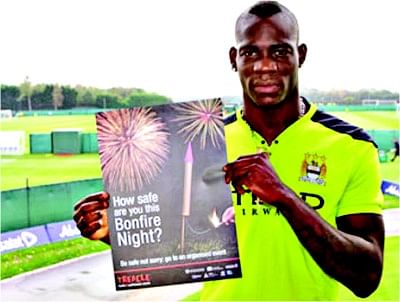 Sergio Agüero may be the expert finisher and David Silva the artist supreme but who can doubt which Manchester City forward is proving to be the club's real value-for-money signing. Step forward Mario Balotelli, the dart-throwing, grass-hating, cash-hoarding maverick who has become the face of fireworks safety days after 'friends' let some off in his house, setting it ablaze. You could not make it up.
The player has been in the headlines since joining City in August last year and was described as "crazy" by his manager, Roberto Mancini, after revealing a 'Why Always Me?' T-shirt having scored the opening goal of City's 6-1 thrashing of Manchester United on Sunday. Balotelli's latest move, however, may be his finest.
"It is important children should not mess with fireworks. They can be very dangerous if they are not used in the right way. People should follow the firework code," warns a man who had to escape from his burning home early on Saturday after fireworks were set off through a bathroom window. Two fire crews were called and Balotelli escaped unharmed. The 21-year-old Italian claimed the incident was the fault of one of the four friends who were staying with him at the property in Mottram St Andrew, Cheshire.
"The newspapers got the story wrong about me," he said. "I didn't set any fireworks off, it was a friend of mine. I didn't know anything about it until I heard shouting coming from the bathroom. My friend apologised to me for the damage to my house. It was a really stupid thing to do."
Indeed it was and, with Bonfire Night coming up, Balotelli is, according to City, keen to give his full support to the Manchester-based Treacle campaign, which provides information on how to enjoy fireworks safely. Rule No1? Do not set any off in your bathroom, perhaps.
Balotelli believes City's stunning win at Old Trafford, which has put them five points clear at the top of the Premier League, proves they "can be the best" and he has thanked the City fans for their backing of the players and, in particular, himself.