Hijras seek rights, recognition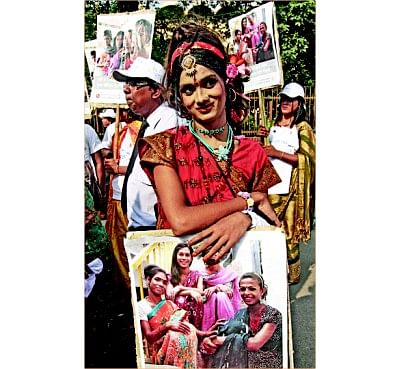 Hundreds of transgenders (hijras) took to the street yesterday seeking their legal and social recognition as 'third gender' outside men and women, and demanded protection of their rights for education and employment in the country.
The colorfully dressed hijras, who held their biggest ever rally in recent memories in Bangladesh, carried placards, banners and festoons inscribed with different demands and paraded a three-kilometer long path from the city's Shahbagh to Jatiya Press Club.
Vehicles took a pause; while onlookers saw it as a big surprise for them as such a sizable number of nearly 1,000 hijras, generally hidden, were never seen together in Bangladesh, home to an estimated 1,50,000 transgenders who are generally recognised as "fun" human being, but neither recognised by society nor the legal systems.
People from all walks of lives, including police personnel, government officials and journalists, expressed solidarity to the cause of the sexual minority group, who generally make a living through dance in family occasions, sell sex or collect tolls, often creating nuisance for the passerby.
"We are here to say that Hijras are also human beings, they have lives, they need food, shelter, clothe, education and job to survive in the world like other men and women," said Payel, 22, when approached to say her concerns. Despite being the fact that hjras are human being, she said adding, but they are denied of their every right-as social taboos and discrimination made them untouchable, fearsome and funny.
"None provide Hijras any job though some of us have secondary and higher secondary level education," added Rakesh, who later changed his male name to a feminine name, Sundari, and left family because of his sexual preference that is not acceptable to parents.
"We are not allowed in public places, buses and even hospitals in emergencies. Wherever we go, people treat us very badly, and tease and laugh at us," Sundari, who hailed from Rajshai, said, explaining how such social treatment adversely affects their minds. "We do suffer from inferiority (complex) all the time."
Banahdu Social Welfare Society (BSWS), an NGO, that has been working for the promotion of rights of hijra and MSMs in Bangladesh and cost-host of the Dhaka rally.