FIFA World CupBrasil 2014
1,000 days to go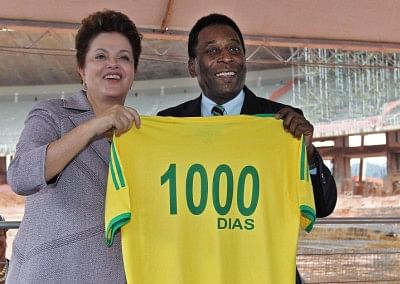 Brazil launched its countdown to the 2014 World Cup on Friday, ticking off 1,000 days before it hosts the top international football tournament, as FIFA reiterated concerns over delays.
Brazilian President Dilma Rousseff kicked off the event in the city of Belo Horizonte by announcing new infrastructure investments and renewing her pledge that her country would be ready, despite facing a formidable list of problems and being behind schedule.
"Investing in infrastructure is a way of saying no to the international crisis affecting countries in the Euro zone and the United States," said Rousseff, who was accompanied by retired football great Pele, named as Brazil's World Cup ambassador.
Brazil's O Globo newspaper noted that, within the next 1,000 days, the country has to complete 52 major works, 12 stadiums, change several laws and decide its team's selection.
FIFA, the international football federation that runs the World Cup, expressed renewed concerns over the state of Brazil's preparations.
"To be honest, there is still a lot of work to be done, which is normal with 1,000 days ahead of the kick-off on 12 June 2014," said FIFA secretary general Jerome Valcke.
"It is essential that we must move quickly now and work closely with the authorities and host cities to make it all happen. And we are not talking about stadiums only, but also about all the infrastructure around such as airport capacities, public transport, level of accommodation to make this FIFA World Cup a memorable experience for teams and fans."
To push things along, a Brazilian judge ordered workers who have been striking at the worksite renovating Rio's famed Maracana Stadium -- the likely venue for the World Cup final -- to get back on the job.
The government offered guarantees this week that all stadiums would be ready in time. Nine of 12 stadiums being renovated or built will be complete in December 2012, it said.
But it also admitted that work had not yet started on five of 13 airports that need expanding to welcome millions of tourists.