Pragoti rolls out new SUV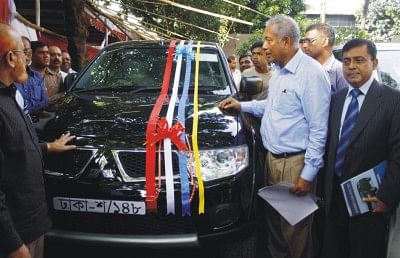 State-owned Pragoti Industries Ltd yesterday launched a new sports utility vehicle (SUV) as a successor of Pajero V-31 in the brand name of Mitsubishi. The car is modelled on Japan's Mitsubishi Pajero Sport CR-45.
Pragoti will assemble 300 vehicles a year in line with a five-year agreement with Mitsubishi Motors Corporation of Japan.
"This year it will assemble 200 vehicles," said Industries Minister Dilip Barua, who briefed reporters on the vehicle's marketing procedure at a press meet in Dhaka yesterday. Pragoti is an enterprise of Bangladesh Steel & Engineering Corporation under the industries ministry.
The five-door diesel car with a 2,500cc engine is priced at Tk 69 lakh. Its production cost is over Tk 64 lakh. Buyers will get a 1 percent discount on advance payment.
Government buyers can get the vehicles at Pragoti's showroom in Tejgaon industrial area. Others will be able to buy the vehicles from Rangs Motor's showrooms.
Prime Minister Sheikh Hasina will announce the formal launch of the vehicles later.