Newspapers snatched
Critical reports on reckless driving infuriate transport workers loyal to shipping minister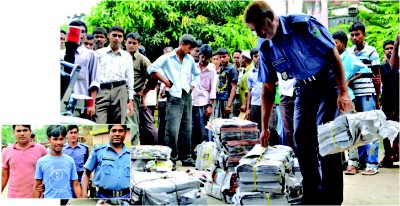 Transport workers in Bogra and Madaripur looted a huge number of newspapers yesterday protesting reports criticising the shipping minister's role in granting licences and violation of traffic rules by drivers.
Quoting newspaper hawkers, our Bogra correspondent reports: transport workers stopped several newspaper-laden vehicles near the central bus terminal and Matidali intersection of the city around 8:30am and snatched bundles of newspapers including The Daily Star, Prothom Alo, Ittefaq, Kaler Kontho, Shomokal, Naya Diganta, Inqilab, Daily Sun and Dinkal.
Abdul Latif Mondol, president of Rajshahi Divisional Workers Union and Bogra Motor Workers Union' told The Daily Star that some transport workers, loyal to Shipping Minister Shajahan Khan, looted the newspapers in line of the central committee's decision.
Shajahan is the executive president of Bangladesh Road Transport Workers Federation.
The looters believe the media unfairly branded transport workers 'killers' in the light of Sunday's arrest of drivers at Gabtoli in the capital and irregularities in the transport sector, said Shahidul Islam Bakul, president of Bogra Jatiyatabadi Newspaper Hawkers Union.
Police arrested Ripon, 20, while he attempted to sell the stolen newspapers at a market.
Later, police raided Shailenpara and Mandolpara areas in the city, said Atiur Rahman, officer-in-charge (investigation) of Bogra Sadar Police Station.
About 8,500 newspapers, including 125 copies of The Daily Star, were recovered during the raid and handed over to the hawkers for distribution, he added.
A case was filed against 10 to 11 persons, including Ripon, Saiful Islam and Eman with Bogra Sadar Police Station in this connection.
In Madaripur, transport workers looted and set fire to newspapers at Mustafapur bus stand, reports our Madaripur correspondent.
They also asked hawkers not to sell daily Prothom Alo and threatened them of dire consequences if unheeded.
Zakir Hossain, a hawker, told The Daily Star that a group of transport workers stopped the bus carrying newspaper at Mostofapur bus terminal in the early morning and snatched the newspapers.
Omar Ali Sikder, a newspaper trader, said transport workers snatched newspapers because they disagreed with critical reports and caricature of shipping minister published in the dailies.