Boutiques follow local styles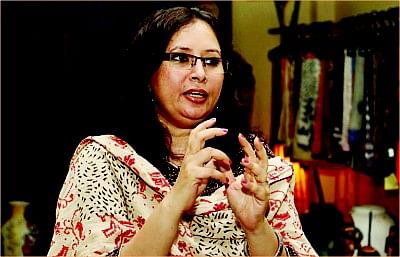 Ivy Hasan
Local boutiques have taken over the scene that was once dominated by Indian designs. They have had a breakthrough in the local fashion arena.
Besides building the concept of Deshi styles, it is also making a mark in the rest of the world. Boutiques are not only doing business here, but also spreading a message of patriotism to the nation, said Ivy Hasan, fashion wear maker and owner of Doll's House.
People once went to the market to get the latest in foreign designs and they had no interest in local clothes, she said.
But boutiques have grabbed the current market with classical and modern designs. Customers now want to celebrate a special day like Eid with a unique piece that is high in quality as well, Ivy added.
Ivy once designed a dress for Queen Sofia of Spain when she visited Bangladesh in 1997.
On the current standing of boutiques in the country, she said she is content.
When she started Doll's House in 1996, she was alone, but she took the risk and took on a prestigious position in the boutique market. In that period, designers and boutique house owners fought competition against Indian clothes. Nowadays, a new designer or trader can easily enter the market and do business here, she added.
On why the boutique scene did not expand as much as in Dhaka, she said the market in Dhaka is bigger. "Boutiques in Dhaka do business throughout the year. But the market in Chittagong is fixed for only Eid," Ivy said.
On why designers and boutique owners in Chittagong did not establish a common platform like 'Deshi Dosh', she said they have already established an organisation named Designers' Forum. The forum has plans to start a common shop for the boutique houses in Chittagong in a year that would help them spread the market in future, she added.
On the emergence of seasonal designers and traders, she said these kinds of players cannot build or improve their quality. "To establish quality, a designer or trader has to stay in the market for a long time and maintain communications with customers," Ivy said.
To help the sector flourish, it is necessary to establish academic education for fashion designers, she said. Bangladesh Garment Manufacturers and Exporters Association, Vogue and Chittagong Women Chamber of Commerce and Industry (CWCCI) have been running training courses on fashion designing -- which are not sufficient, she added. Regular programmes are necessary for this sector, added Ivy, who is also member of CWCCI.
"We already have a lot of orders for clothes from different countries. This sector has a chance to establish itself in foreign markets because of its unique quality, which is rare in western items," she said.
On the quality of workmanship, she said designers or traders do not have much to do as they pay money for quality fabrics, but some cloth traders supply low category fabrics in faded colours and the cotton is also not up to the mark. Ivy said fabrics makers should be conscious about quality; otherwise it will damage the image of this sector.
Giving suggestions to new designers, she said they should acquire more training. "The market is free for everyone; it just needs quality work."
She said designers and traders should take up work orders in accordance to their capacity and not more, to maintain workmanship.