Theatre
Tirjak Natyadal produces Tagore's Raja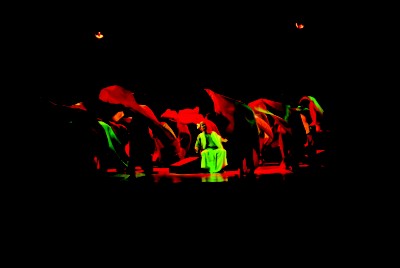 The initiative by the Ministry of Cultural Affairs to finance production of Tagore plays on the occasion of the bard's 150th birth anniversary has not been limited to Dhaka based troupes. Trijak Natydal, a well-recognised troupe from Chittagong, received the government grant as well. The troupe from the port city has brought Tagore's much acclaimed play "Raja" to the stage. Ahmed Iqbal Haider, veteran theatre activist and leader of Trijak, directed the play.
The play premiered last month in Chittagong. So far, four shows have been staged. During a phone conversation with The Daily Star, Haider said that the response from the audience in Chittagong has been very positive. The troupe will stage the play in Dhaka soon.
The fifth show of the play will be held at the auditorium of Theatre Institute, Chittagong (TIC) tomorrow (July 15) evening.
"Raja" is a symbolic play. It is not divided into acts and scenes. This play reflects Tagore's philosophy and the relationship between an individual and the universe.
In the play, Raja symbolises God and the dark chamber, where he resides, represents the inner-self of man. Raja can only be accessed in the dark chamber, which means God cannot be found outside, one has to search within.
Talking about the design of the play, Haider said that he has used vibrant piece of fabric to symbolically represent different objects and aspects; for example, to create flames he has used yellow and red fabric. According to the director, the troupe is known for using colours in its productions.
Apart from direction, Haider also designed the light. Along with Faiz Zahir, he did the set designing as well.
The cast includes Sujit Chakraborty, AKM Ismail, Lucky Amin, Ripon Barua, Nazmun Nahar, Mahbubul Islam, Shyamol Barua and Kanai Lal.
Apart from "Raja", Tirjak also produced Tagore plays "Bisharjan", "Daakghar", "Rath Jatra" and "Rakto Karobi", and staged a total of 464 shows of them. "Bisharjan" will soon have its 200th show. The troupe has also arranged five festivals featuring Tagore plays.
Speaking about theatre activities in Chittagong, Haider said it's quite promising. "So far this year, troupes in Chittagong have brought six new plays to the stage, which is quite impressive. We hope that this number will exceed 10 by the end of the year," he said.
Haider also pointed out that troupes in the port city lack national exposure and patronage. He added that they are often overlooked by the media. "We need more patronage from both the media and other sectors," said Haider.