N'ganj turns battle zone
120 hurt as hostile pickets enforce 30-hour hartal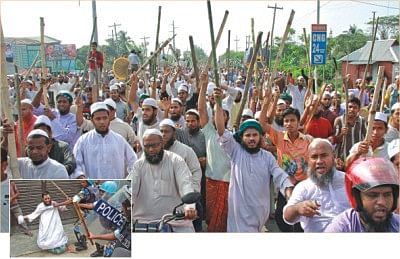 Thousands of Islamist activists, armed with stones and sticks, blocked roads with burning tyres, damaged vehicles and clashed with police yesterday, virtually turning Kanchpur, Panchabati and Fatullah in Narayanganj into battle zones on the first day of the 30-hour countrywide hartal.
An alliance of 12 Islamist parties is enforcing the shutdown to protest "restoration of secularism" in the constitution.
Police responded with tear gas shells and rubber bullets as some of the rampaging activists attacked the law enforcers and snatched from them a pistol, a shotgun and a wireless set, and smashed those.
The violence that flared in the busy industrial areas of Narayanganj district left over 120 people injured, including 17 policemen who were attacked by pro-hartal activists, police and witnesses said.
The main opposition BNP and its ally Jamaat-e-Islami are supporting the hartal protesting the recent constitutional amendment that restored secularism as a state principle and removed the phrase "Absolute Faith and Trust on the Almighty Allah."
The protest came even though the constitution has retained Islam as the state religion and Bismillahir Rahmanir Rahim.
Barring these clashes, the hartal was largely ignored by people who went to work as usual. Traffic in the capital was near normal yesterday unlike the mostly empty streets seen during the 48-hour hartal enforced by BNP and Jamaat on July 6 and 7.
The violence in Narayanganj was led by Islami Andolan Bangladesh (IAB). Its activists, most of them local madrasa students, began gathering in the areas since early morning. Many of them squatted on the Dhaka-Chittagong highway stranding many vehicles on both sides of Kanchpur bridge. The marauding activists also smashed many vehicles.
Police picked up at least 228 activists mainly from IAB and Bangladesh Khelafat Majlish from Fatullah and Kanchpur in Narayanganj, Dhaka city, Chittagong, Pabna and Patuakhali, the police headquarters said.
In Fatullah, IAB activists, most of them local madrasa students, beat up 12 cops after confining them for about half an hour, snatched a shotgun, a pistol and damaged a wireless set from them. They also injured two TV cameramen. Police recovered the snatched the arms after four hours.
At 7:15am, around 2,000 IAB activists who came from different local madrasas including Madaninagar Madrasa blocked Dhaka-Chittagong highway at Kanchpur and Panchabati with large sticks. They burned tyres and vandalised at least 17 vehicles.
Police intervened when the activists went on rampage and started smashing vehicles indiscriminately. Police fired rubber bullets and tear gas shells, and used batons to disperse the activists, witnesses said.
At one stage, pro-Awami League motor vehicle workers and AL supporters also joined the law enforcers and attacked the IAB activists.
In counter attacks, the IAB activists also severely beat up several cops including Additional Superintendent of Police of Narayanganj Saidur Rahman and snatched his wireless set. He was admitted to Square Hospital in the capital.
Three other severely injured cops were later admitted to Dhaka Medical College Hospital.
Traffic movement halted for about four hours on Dhaka-Chittagong highway and Dhaka-Sylhet highway. Commuters faced untold sufferings during the clash as many people were seen walking to reach the capital from Kanchpur and Fatullah.
Also yesterday, mobile courts jailed and fined over 58 "picketers" across the country for disrupting peace.
Police picked up 47 hartal supporters from the port city of Chittagong.
In the capital, police picked up at least 25 people from Paltan, Lalbagh and Mirpur areas during the shutdown.
In Narsingdi, Police detained 33 local leaders and activists of IAB during the hartal hours.
Meanwhile, the police authorities have formed a three-member committee to investigate picketers' attack on police during yesterday's hartal hours in Fatulla of Narayanganj that left 15 policemen including an additional ASP injured.
Narayanganj Superintendent of Police (SP) Sheikh Nazmul Alam told journalists the committee headed by Additional Superintendent of Special Branch of Police Giashuddin Ahmed has been asked to submit its report within three days.
The probe body has to find out if police showed negligence in their duty during the incident, and the reasons behind the attack on the law enforcers, he added.