Jatra Competition in Manikganj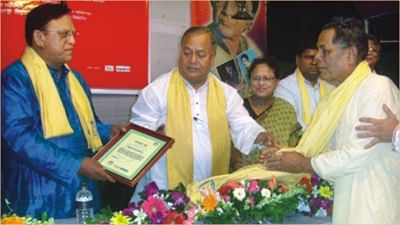 Jatra Vision Limited has arranged a year-long jatra competition at 'Jatra King' Amolendu Biswas' native village Jabra in Manikganj. Promod Mankin, state minister for cultural affairs, formally inaugurated the Robi Jatra Competition on Monday evening.
Jyotsna Biswas, popular jatra artiste and wife of the late Amolendu Biswas, presided over the function. ABM Anwarul Haque, local lawmaker; Munshi Shahabuddin Ahmed, Deputy Commissioner; Mohammad Ali Mia, police superintendent; Afsar Ahmed, Professor of Drama and Dramatics Department, Jahangirnagar University; Aruna Biswas, film actress, chairperson of Jatra Vision Limited and daughter of Amolendu and Jyotsna Biswas; jatra artistes Milon Kanti Dey, Rawshan Ara Labony, among others, spoke on the occasion.
The state minister said that the present government encourages traditional cultural practices including jatra. Veteran jatra artiste Bhanu Saha was accorded a reception at the inaugural function.
"Jail Theke Bolchhi", a historic jatra was staged at the programme.
Around 120 jatra troupes are taking part in the competition, at 10 venues across the country. Fourteen jatra troupes of Gopalganj, Tangail, Munshiganj, Jessore and Manikganj are participating at the Manikganj venue.
The Bengali daily Shamokal and Radio Today are media partners of the event.