Suu Kyi to address US Congress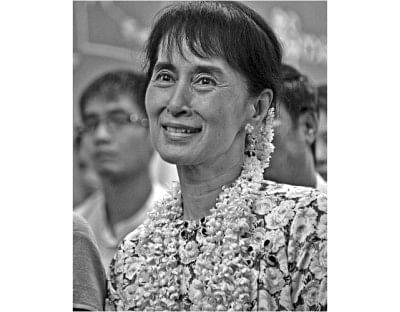 Myanmar's pro-democracy leader Aung San Suu Kyi will deliver her first-ever remarks to a US congressional committee to raise awareness of human rights concerns, a lawmaker said Monday.
Suu Kyi has sent a recorded video message to be broadcast at a hearing today at the House Foreign Affairs subcommittee on East Asia, said the US Campaign for Burma advocacy group.
Suu Kyi, a Nobel Peace laureate, has spent most of the past two decades under house arrest but was freed in November. Today's hearing is due to discuss last year's widely criticized election in Myanmar, also known as Burma.
The hearing "will highlight these sham elections and Burma's difficult road ahead," a Republican Senator who heads the House subcommittee, said in a statement.
The military-backed regime has announced a political transition amid talks with the United States on improving relations. But Washington and opposition groups say the changes are little more than cosmetic.