Turkish PM's third term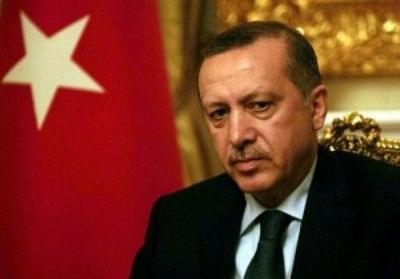 Bigger than France, Turkey is a part of Europe and Asia, adjoins oil-rich Iran and sits astride the Dardanelles, through which Black Sea is connected. Its strategic significance is immense to big powers.
It did not take long for the count to show what everyone had expected -- another decisive victory for the governing Justice and Development Party (AKP) led by charismatic Prime Minister Recep Tayyip Erdogan (57) at the parliamentary election in Turkey held on June 12.
For all of Turkey's challenges, the June 12 vote was an indicator of stability in an increasingly confident country. Most voting was peaceful and orderly, with large crowds gathering early to cast ballots. More than 50 million people, about two-thirds of Turkey's population of 73 million, were eligible to vote in the election. NTV television said the turnout was 87%.
AKP supporters were celebrating on the streets of the capital on June 12 night.
"I am truly happy. I hope the outcome will be in favour of our country and nation. I cannot find words to express my happiness," said one supporter.
The result is a powerful endorsement of the blend of economic liberalism and Islamic roots offered by the prime minister. With this win, he is now the most powerful political figure in Turkey since the days of the country's founding father, Kemal Ataturk.Results show Erdogan's Justice and Development Party (AKP) won about 326 seats in the 550-seat parliament, although the party failed to secure the two-thirds majority (367 seats) needed to make unilateral changes to the constitution. There will be a record 78 female MPs -- up from 50 in the last parliament.
The main opposition party, the Republican People's Party (CHP), under its new leader, Kemal Kilicdaroglu, did offer a more appealing alternative for secular Turks than in previous elections.
Results indicated that the secular CHP had 26% of votes with 135 seats -- 23 more than last time -- and the far-right Nationalist Movement Party (MHP) with 13% has 54 seats, down 17.
Independent candidates fielded by the pro-Kurdish Peace and Democracy Party (BDP) also did well in the south-east, winning 5.8% of the votes and 35 seats. "This is a huge success for us," prospective Kurdish MP Serafettin Elci told Reuters.
"We expect the PM to signal a strong hope for the solution of the Kurdish problem for Turkey's future."
Turkey's Prime Minister Recep Tayyip Erdogan has promised to build consensus with opposition parties, after securing a third term in office. "The people gave us a message to build the new constitution through consensus and negotiation," said the prime minister.
"We will be seeking consensus with the main opposition, the opposition, parties outside of parliament, the media, NGOs, with academics, with anyone who has something to say."
Erdogan said the AKP and others would write a "civilian, free constitution which embraces all parties of the society together." He also alluded to Turkey's aspiration to be a voice in the West for the Middle Eastern region and Muslims, saying Bosnians, Lebanese, Syrians and Palestinians also benefited from his victory.
"Believe me, Sarajevo won today as much as Istanbul, Beirut won as much as Izmir, Damascus won as much as Ankara, Ramallah, Nablus, Jenin, the West Bank, Jerusalem won as much as Diyarbakir," he said.
Prime Minister Erdogan has been in power since 2003. He is a leader bigger than his party. During his eight years of rule, the country has decisively shifted power from the secular elite to the merchant class, the migrants and the downtrodden rural people.
Turkey is a far different place than the one he inherited. He has presided over strong economic growth and a more assertive foreign policy since taking power. Under his rule, the country's economy has more than tripled, and exports have expanded to $132 billion a year from $36 billion. There are 250 industrial zones in Anatolia. It registered economic growth of 8.1% in 2010.
Turkey, a Nato ally with a mostly Muslim population, stands out in a region buffeted by popular uprisings as a power with traditional Western alliances and growing ties in the east and elsewhere.
Turkey, under the prime minister, has carved out an independent geopolitical role in foreign policy. It has focused on minimising tensions in its neighbourhood through increased economic cooperation.
The Turkish prime minister visited Athens in 2010, and it constituted a "revolution" because Greece and Turkey have long-standing animosity toward each other -- like India and Pakistan.
The soft-power approach has raised Turkey as an important regional player and a mediator in regional disputes. Turkey was mediating between Israel and Syria just weeks before the conflict in Gaza broke out on January 3, 2009. The diplomatic initiative in 2010, supported by Brazil, in swapping Iran's nuclear enriched uranium with Turkey, are instances of its role as interlocutor in the region.
Turkey has also played a positive role in trying to remove misunderstandings between Pakistan and the Karzai government in Kabul. It will hold a conference of regional donors for Afghanistan in November this year. The country's UN vote against sanctioning Iran and the proposal of a safe exit strategy to Gaddafi are examples of its independent policy.
Its outspoken criticism of Israel's Gaza policy earned admiration from Arab countries. From its new standing, Turkey is benefiting from investment-flows from Gulf countries ($6 billion) and has diversified its exports, in which Asian share has increased from 14% to 25% during the last seven years.
A more confident and more independent Turkey is stretching its wings, politically and economically. Its strategic approach is merely expanding its reach, and as its Foreign Minister Ahmed Davutoglu said: "Our axis is an Ankara axis and our horizon is 360 degrees."
Turkey's election has demonstrated that democracy and Islam can co-exist together and the Turkish model could act as a beacon to the Arab countries which are going through violent political upheavals for democracy and freedom.
The Turkish prime minister visited Bangladesh in November 2010, through which relations between Bangladesh and Turkey were further consolidated. Both Bangladesh and Turkey agreed to increase bilateral trade volume to at least $3 billion by 2015. Turkish Airlines operates between Dhaka and Istanbul.
The writer is a former Bangladesh Ambassador to the UN, Geneva.