Journo assaulted for refusing to work for candidate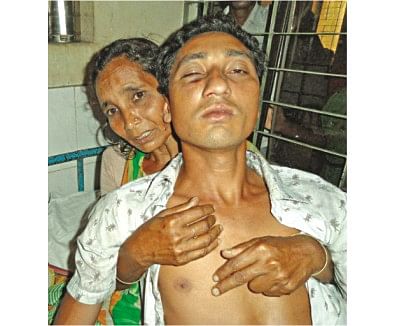 Supporters of the chairman-elect of Mogholhat Union Parishad in Lalmonirhat Sadar upazila yesterday assaulted a journalist on the premise of Kodalkhata High School for what the victim said his refusal to work in favour of him (chairman-elect) before the election.
The victim, Masud Rana Rashed, 30, news editor of weekly Alor Moni, is undergoing treatment at Lalmonirhat Sadar Hospital.
Witnesses said a gang of six led by Awal Hossain, a nephew of chairman-elect Habibur Rahman Habib, picked up Rashed from his house at Fulgachh village in the union at around 11:00am.
They took Rashed to nearby Kodalkhata High School, hit him with wooden sticks and left the scene, leaving him seriously injured, the witnesses added.
Rashed alleged that the supporters of Habib assaulted him as he had earlier turned down his (Habib) request to work for him.
"They are the activists of local AL unit and putting pressure on my family not to file any complaint or case with the police station concerned," he told this correspondent at the hospital.
Newly elected chairman Habibur Rahman Habib denied the allegations, saying that he knew nothing about the incident. "No such incident relating to the union parishad election occurred," he claimed.
Rashed's father Hazrat Ali alleged that the gang also assaulted him as he came forward to save his son. "We will file a case against the attackers with Sadar Police Station soon," he said.