Trial starts next month with two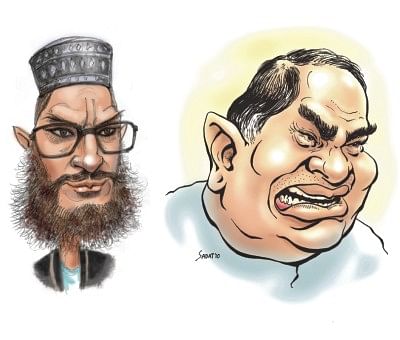 The International Crimes Tribunal (ICT) is finally going to start next month the trial of detained Jamaat-e-Islami leader Delawar Hossain Sayedee and BNP leader Salauddin Quader Chowdhury who are facing charges of crimes against humanity, sources said.
The trial of four other detained Jamaat leaders will begin in phases from August on charges of committing similar crimes during the Liberation War in 1971, Law Minister Shafique Ahmed told journalists yesterday.
The four are Jamaat Ameer Motiur Rahman Nizami, Secretary General Ali Ahsan Mohammad Mojaheed, two assistant secretary generals of the party Muhammad Kamaruzzaman and Abdul Kader Molla.
Former minister and BNP lawmaker Abdul Alim, now on bail, will also be tried with them.
"It will be possible to start next month the trial of two of those charged with war crimes," the law minister said quoting investigators and prosecutors of the tribunal.
Shafique was talking to journalists after a meeting of the steering committee on the trial of war criminals held at the secretariat.
Finance Minister AMA Muhith, who chaired the meeting, echoed what the law minister said.
Shafique, however, declined to give the names of the two to be put on trial next month.
Muhith said investigators and prosecutors are prepared to place some cases before the tribunal for trail. "They have also worked out the way the trial will be held," he added.
A number of other ministers including Syed Ashraful Islam, AK Khandker and Sahara Khatun also attended the steering committee meeting.
Seeking anonymity, meeting sources told The Daily Star the trial of Sayedee and SQ Chowdhury will begin next month.
"We have submitted the probe report on Jamaat leader Sayedee to the prosecution team of International Crimes Tribunal, and we will submit our full probe report on Salauddin Quader by August 1," a member of the investigation agency said.
"So, it is certain that the trial of Sayedee and Salauddin is going to start in July," he said.
Meanwhile, the ICT yesterday ordered the investigation agency to submit to it the report on war crimes charges against Salauddin by August 1.
If they fail to submit a full-fledged probe report by this time, the investigators have to submit a progress report on investigation, said the ICT headed by Justice Nizamul Huq in its order.
On the eve of the anniversary of the start of genocide by Pakistan occupation forces in 1971, the government on March 25 last year announced formation of the tribunal, investigation agency and prosecution team for trying war criminals.
The three-member tribunal, seven-member investigation agency and 12-member prosecution team was formed for holding the trial under the law of the land -- the International Crimes (Tribunals) Act 1973.
On May 31, the investigation agency handed over to the prosecution team a 15-part final report and other documents on the allegations against Sayedee.