New Jersey Senate honours Khaleda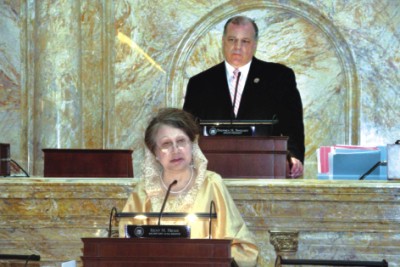 New Jersey State Senate on Monday honoured BNP Chairperson Khaleda Zia, now in USA, as a fighter for democracy.
BNP Vice-chairman Shamser Mobin Chowdhury, a member of Khaleda's entourage, told UNB over phone that both the treasury bench and opposition members of New Jersey State Senate unanimously adopted a resolution honouring Khaleda Zia.
Shamser Mobin said the senate resolution termed Khaleda as fighter of democracy, special leader of women empowerment and a role model for present and future women generations of the US.
New Jersey Senate President Stephen Sweeney handed over the senate resolution to Khaleda Zia.
All the senators gave Khaleda a standing ovation.
This was the first such honour accorded to any foreign personality by the New Jersey State Senate, Shamser Mobin said.
Addressing the Senate, former prime minister Khaleda Zia sought cooperation of the state senators in pursuing duty-free access of Bangladeshi products in the US market.
On democracy and human rights, she said Bangladesh and USA have identical views on both these issues.
On counter-terrorism, the leader of the opposition in parliament said people should be involved for sustainable and effective curbing of terrorism.
Khaleda also expressed her happiness and gratitude for inviting her to the New Jersey State Senate.