Bid winners for dead trees felling live ones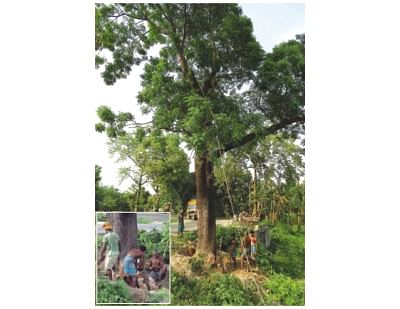 Labourers of two bid winners for cutting down dead trees are allegedly felling live trees along Lalmonirhat-Burimari highway in Patgram and Hatibandha upazilas of the district.
Following an auction on April 13, the district council issued letters of permission to cut down 71 roadside dead trees along Lalmonirhat-Burimari highway in Hatibandha and Patgram upazilas, said Younus Ali, office assistant of Lalmonirhat district council.
Under the auction, Lavlu Miah bought 39 dead trees in Patgram upazila for Tk 45 thousand and Ashraful Haque bought 32 others in Hatibandha upazila for Tk 27 thousand, he said.
Locals alleged that the bidders' men have continued cutting live trees for the last one week while their hired goons always keep watch, threatening the people who question the illegal act. They also show 'auction papers' to justify their act.
"Lavlu Miah's labourers have already felled at least 100 roadside trees in Bawra area of Patgram upazila till Friday evening. Only 18 to 20 of the felled trees were dead and the others were live," said Abdul Wahed Ali, 42, a residence of Bawra village.
"If we ask why they are felling live trees, they show us auction papers and say that government officials look into the matter," he said.
Sahidul Islam, 42, a resident of Barokhata village of Hatibandha upazila, said Ashraful Haque got an auction to fell 32 roadside dead trees along Lalmonirhat-Burimari highway in Hatibandha upazila but his labourers felled at least 70 roadside trees, mostly live, in a week till Friday evening. It seems many more roadside live trees will be felled in the name of the auction."
The two bid winners 'managed' district council officials to fell roadside live trees from different spots in Hatibandha and Patgram upazilas, locals alleged, adding that 30 to 35 labourers recruited for the purpose can cut down at least 25 trees daily.
When contacted, Lavlu Miah said, "My labourers are felling roadside dead trees as per the auction in presence of district council officials. I will fell 39 dead trees that were auctioned to me, not a single more."
Another bid winner Ashraful Haque said, "District council officials always remain present in the areas where roadside dead trees are being felled. So there is no scope to fell any additional or live trees."
When contacted, acting executive officer of Lalmonirhat district council Zakir Hossain said, "Two staffs of district council have been deployed to watch roadside tree felling and so, contractors or their labourers dare not felling additional or live trees. We will take action if anyone is found guilty."