Winning Reunites
Grand concert celebrating 28th anniversary of the band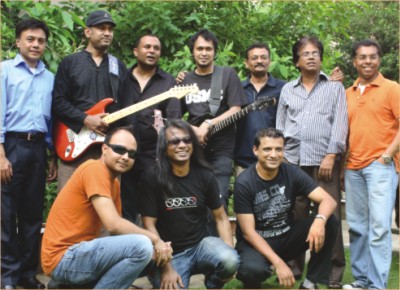 Winning, a band that has given contemporary music aficionados several hits, was formed in 1983 by five young men -- Ranjan, Shelly, Haider, Mitul and Famid. Over the years, musicians Babu, Chandan, Biplob, Tipu and Mobin joined in.
Despite being hugely popular, this band has so far launched only two albums in almost three decades.
Winning's self-titled debut album (released in 1992) was the bestseller of the year. Music lovers welcomed the band's melodious soft rock numbers like "Dur Paharer Dharey", "Shonar Meye" and "Hridoy Jurey". Even today people look for that album at music stores.
The second album, titled "Ochena Shohor" that came out in 1995, also was a success.
To celebrate its 28th anniversary, all members of the band have come together to reconnect, relive and rejoice through a musical reunion.
The reunion concert is scheduled to take place at Winter Garden, Hotel Ruposhi Bangla (formerly known as Dhaka Sheraton) today, starting from 5:30pm.
All ten members who are to perform at the reunion concert were jamming at a practice pad in Eskaton last evening. The crew seemed and sounded nostalgic, happy and sad -- all at the same time. The band strolled down memory lane, remembering their first fan club, their albums, their time together and the loss of Mobin.
It's been 11 long years since Winning last performed live, they said.
The vocalist Chandan left for abroad in 2002, and since then the band had become inactive, explained the members.
"We have a unique style of music, it's not for everyone," said Chandan.
"We have a fan base that is accustomed to our style. We could not risk alienating them by experimenting with another vocalist after Chandan left," added Biplob, the keyboardist.
"Our fans are dedicated and they've patiently waited years to hear us live," said Ranjan, drummer and vocalist.
The crew said that they are all very excited about the musical reunion today. They promised an unforgettable show and an evening of melody dedicated to all their fans and well wishers.
Chandan quickly added, "All our fans, who are abroad or can't make it to the reunion, can watch the show on Boishakhi TV or hear it on Radio Today."
"Don't miss it! This concert is going to be grand," said Tipu, drummer and percussionist of the band (also drummer of Warfaze).
The band members also broke the big news: Winning's third album will be launched by next year.
The crew said that the new album will feature Winning's familiar style of music. "However, on this album we're fusing some new flavours -- keeping younger audiences in mind," said Babu, the senior-most guitarist of the band.
No compromise will be made with the lyrics though, because "that's what makes our songs complete and unique," Chandan said.
The band conveyed special thanks to Shojol, a long-term friend and well wisher of the band, who initiated the idea of this reunion.
Carnival Events, an event management firm run by Tipu and Emon, has taken the initiative to host the concert.