Logistics providers flourish on trade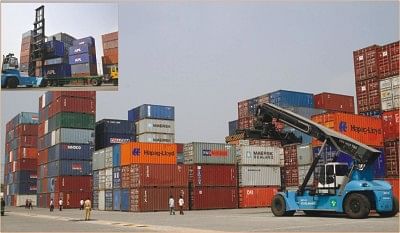 Bangladesh has witnessed some amazing figures in business between July and March this fiscal year. The country exported goods worth $16.20 billion and settled import payments to the tune of $24.16 billion at this time, according to state-owned Export Promotion Bureau (EPB) and Bangladesh Bank data.
Both exports and imports registered 40 percent growth at the time, against the same period last year. The figures point to an increased number of business activities and enhanced movement of goods, at home and abroad.
A big chunk of money is spent on transporting the exported and imported goods, either by road, air or waterways, or in storing the goods in warehouses. This means the logistics service providers play a vital role in the game.
Fuelled by high exports, imports and the frequent movement of goods from one place to another in the domestic market, the logistics business is also witnessing a boom over the years.
The services of such companies are not confined to the transportation of export and import goods only, but it extends further to link local markets, industry insiders said.
Generally, the logistics business involves the proper management of the supply chain of goods, information, people and other resources from the point of origin to the point of destination.
Any logistics job will always focus on transport, safekeeping and dispatch of resources, including people. Logisticians carry out their duties that entail in meeting any logistics need, through various means of transportation, including road, air, railway and waterways.
The logistics companies offer a series of services, comprising transportation, warehouse facilities, freight forwarding, express cargo delivery, courier services, container services and shipping services.
In addition, a logistics service provider also offers value-added services, such as customs clearance, freight forwarding, import and export management, packaging and labelling and distribution.
In Bangladesh, businessmen in sectors like textiles and garments, automobiles, fast moving consumer goods, leather and leather goods, vegetables, IT, telecom, pharmaceuticals, retail chains and technologies use logistics services.
Industry insiders cannot yet quantify the exact growth rate of the logistics services industry, but they say growth is much higher than before, as many domestic and international firms have either opened new businesses or expanded operations here in Bangladesh.
Many large companies, like in the apparels sector, have their own transportation arms to carry goods domestically. But the companies that do not have such systems, hire the services from the logistic service providers, insiders said.
Syed Earshad Ahmed, managing director of Expeditors Bangladesh Ltd, said more than 20 foreign and 1,000 local companies are offering logistics services to users in Bangladesh. Expeditors is a US-based logistics company operating in Bangladesh.
He said 10 off-dock warehouses under private management are in operation in Chittagong to provide conveyance services of exportable as well as imported goods to their destination of choice.
"Since the local small- and medium-sized logistics service providers do not have sufficient capacity to offer all the required services, they work with multi-agents," he said.
For example, to help a customer intending to send goods to the EU or US by air, a local logistics company will take charge of the cargo and hand it over to a competent foreign logistics service provider for onward dispatch to its destination, as no local company has such facilities, like chartered plane services, yet, he said.
He said maintaining the whole supply chain of the logistics business for any local company is difficult. "Local companies do not have such capacities yet to carry out all the functions," he said.
All the three important elements in the business -- the physical movement of goods, information and capital -- are expensive for a logistics company, he said.
Ahmed said the logistics companies have to invest huge sums of money for multi-modal transportation -- for the physical movement of goods, investment in IT to provide timely information to the users, and capital to operate the company. As a result, local players work with multi-agents, he added.
He said the logistics service providers face difficulties in using the government-owned Inland Container Terminal at Kamalapur in Dhaka, because of near-constant traffic gridlock and weak infrastructure.
Helaluddin Akbar, president of Bangladesh Freight Forwarders' Association, said it is difficult to exactly quantify total investment in the sector.
"But growth of the sector is riding on increased business activity, including export and import," Akbar said. The companies that have a good network base at home and abroad can grab business in providing logistic services, he added.
He said the growing number of logistics companies also generate employment for a significant number of people.