Ispahani Mirzapore Tea 9th National Cricket League
Khulna it is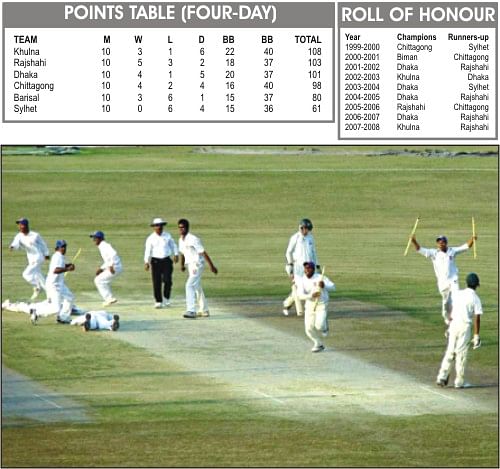 The dramatic last round of the 9th Na-tional Cricket League saw Khulna regaining the first-class title after four seasons when they handed a 63-run defeat to Barisal at the Birshreshtha Shaheed Flight Lieutenant Matiur Rahman Stadium in Khulna yesterday.
Khulna took the opportunities with both hands after the fate of the title race swung their way following nearest rivals Rajshahi's second-innings batting debacle at the Mirpur Sher-e-Bangla National Stadium, where hosts Dhaka recorded an exciting three-wicket win.
The victors dedicated the triumph to their former teammates -- Manzarul Islam Rana and Sajjadul Hasan Shetu -- who died in a road accident in March last year.
It was a big turnaround for Khulna, who slumped to the bottom of the table last season and most importantly, they achieved it without their star players in the last few rounds.
They, however, owed one to Dhaka left-arm spinner Mosharraf Hossain who picked up two more wickets yesterday to return with figures of 6-13 and make sure there was no tail-end recovery by Rajshahi in the second essay.
Resuming the day on 59 for seven, Rajshahi -- who began the tenth and final round one point adrift of Khulna -- were bundled out for 77 to set a meagre 130-run target for the home side.
A middle-order Dhaka hiccup, however, revived Rajshahi's hopes at one stage but Mahmudullah Riyad and stand-in skipper Mohammad Sharif guided their team home just before the tea break.
Rajshahi's only remaining hope to regain the trophy was a draw in Khulna but the determined home team made no mistake to bowl out Barisal before reaching a stiff target of 302.
In terms of record, Rajshahi finished two wins ahead of their rivals with five victories but they lost three matches. Khulna lost only one match which finally settled the issue.
The new system of batting and bowling bonus points in addition of handsome financial package brought huge excitement in the ninth version of the league although absence of the national players in the last few rounds dampened the spirit a bit.
KHULNA-BARISAL
Khulna came out of their only defeat in the competition, to Rajshahi in the penultimate round, in style by winning the last round game and putting end to their title drought.
After a solid 75-run opening partnership between Hannan Sarker (18) and Nasiruddin Faruque (60), number four batsman Rokibul Hasan (53) tested the rival nerves but the hosts attack kept their cool to wrap up the Barisal innings --overnight 20-0 -- for 238.
"We were confident because it was difficult to score near three hundred runs on the fourth day pitch," said stand-in Khulna skipper Nahidul Haque, who had no doubt about a win on the final day.
"We were hardly bothered about what happened in Dhaka rather our main target was to win the match," said Nahidul, who led the team in absence of national team duo Habibul Bashar and Tushar Imran.
"There had been too much talking about our strength without the national players but we have proved it all rubbish. We proved that we have a number of good players in the team," he added.
RAJSHAHI-DHAKA
Everybody was taken aback for a while by watching Rajshahi captain Khaled Mashud hurdling with his guys despite his side lost the against Dhaka by three wickets. Mashud, however, said that they were celebrating an achievement bagging the runners-up trophy after winning the one-day title with a match in hand.
"One might thought the act abnormal when we lost an opportunity to secure the title but I am happy with my team's performance. We have an ordinary side but showed character in the league," said the veteran wicketkeeper.
A 58-run second wicket stand between Javed Omar and Mehrab Hossain Junior kept Dhaka on course for a comfortable victory but the Rajshahi bowlers were not ready to give in without a fight. They reduced their opponents to 91-7 before Riyad and Sharif, who finished the game in style by whacking two consecutive sixes over long-on off Farhad Hossain, shared in a 39-run eighth wicket stand to give the last year's champions the third place.
SYLHET-CHITTAGONG
Chittagong's impressive batting on the final day featured a blazing knock from Nazimuddin, who helped his side beat Sylhet by seven wickets at the Fatulla Stadium.
Nazimuddin and Rezaul Haque put on 109 runs for the third wicket after a 79-run opening stand between Gazi Salahuddin and Masumuddowla as Chittagong reached 239 for three in 50.4 overs.
Nazimuddin, the top scorer in the league with 720 runs, made 65 off 71 balls with four boundaries and five sixes while Rezaul was not out on 54 after hitting ten fours.
BRIEF SCORES
KHULNA: 193 and 325.
BARISAL: 217 and 238 all out in 95.1 overs (Hannan 18, Nasiruddin 60, Imran 23, Raisul 6, Abul Bashar 3, Rokibul 53, Arafat 14, Shaheen 29, Monir 0, Tarikul 32, Talha 9*; Murad 3-2, Jamal Babu 2-39, Aslam 2-42, Robiul 2-54, Ziaur 1-19).
RESULT: Khulna won by 63 runs.
RAJSHAHI: 365-9 (dec) and 77 all out in 41.5 overs (Jahirul 12, Shakil 0, Rafiqul 17, Farhad 3, Khaled Mashud 2, Mushfiqur 0, Anisur 5, Naeem 15*, Shahjada 6, Alamgir 6, Saqlain 0; Mosharraf 6-13, Sharif 2-24, Rafique 1-12, Mahbubul 1-21)
DHAKA: 313 and 131-7 in 38.4 overs (Anwar 8, Javed 21, Mehrab Jr 39, Mehrab 0, Nazmul 3, Mosharraf 2, Rafique 4, Mahmudullah 25*, Sharif 24*; Saqlain 3-62, Shahjada 2-7, Alamgir 2-22).
RESULT: Dhaka won by 3 wickets.
SYLHET: 354 and 201.
CHITTAGONG: 319 and 239-3 in 50.4 overs (Salahuddin 42, Masumuddowla 32, Nazimuddin 65, Rezaul 54*, Ehsanul 34*; Rezaul 2-43, Nabil 1-50).
RESULT: Chittagong won by 7 wickets.