DBBL first to introduce mobile banking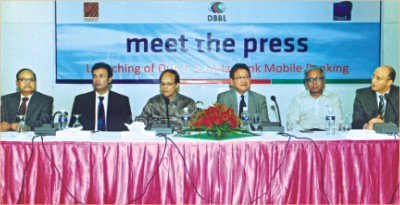 Dutch-Bangla Bank Limited (DBBL) has for the first time introduced its mobile banking service expanding the banking service from cities to remote areas.
Bangladesh Bank Governor Atiur Rahman yesterday inaugurated the service by depositing Tk 2,000 and withdrawing Tk 1,500 through Banglalink and Citycell mobile networks in Motijheel area.
Bangladesh Bank has already allowed 10 banks to initiate mobile banking. Of them DBBL kicked off first.
"Mobile banking is an alternative to the traditional banking through which banking service can be reached at the doorsteps of the deprived section of the society," the central bank governor said at an inaugural press briefing at Hotel Purbani.
Atiur Rahman said through mobile banking various banking services including depositing and withdrawing money, payment of utility bills and reaching remittance to the recipient would be possible.
By going to the DBBL-approved Citycell and Banglalink agents throughout the country the subscribers on showing necessary papers and payment of a fee of Tk 10 can open an account.
To avail of the banking service a subscriber will require owning a cell phone of any provider and he will be given a four-digit PIN number. By using the PIN number he can operate all types of banking services including depositing and withdrawing money maintaining security and secrecy of his account.
The customer will hand over cash to the agent and the agent will initiate the transaction from his mobile phone, the agent will help the account holder to do the banking using his PIN number.
A customer can deposit or withdraw money five times a day and he can deposit or draw Tk 5,000 per day.
One percent of the transaction account or Tk 5, whichever is higher, will be taken as cash-in-charges. In case of cash out the charge will be 2 percent of the transaction amount or Tk 10.
However, the registration fee, salary and remittance disbursement services will be provided free of cost.
DBBL Managing Director KS Tabrez, Banglalink CEO Ahmed Abou Doma and Citycell Chief Operating Officer David Lee also spoke.