Moheener Ghoraguli
Wild Horses of Musical Conviction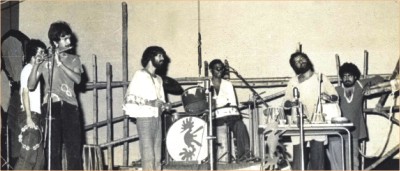 "Prithibita naki chhoto hotey hotey/ Satellite aar cable er hatey/ Drawing room-e rakha boka bakshotey bondi" [The world gradually became smaller and smaller, and gets imprisoned in the grip of cables and satellites, in the stupid boxes in living rooms]. Many of us know the creators of the song and many don't. They are 'Moheener Ghoraguli'. The tune of "Prithibita Naki" was later used with an elaborate orchestra accompaniment by Pritam Chakraborty in the Bollywood blockbuster "Gangster". The song "Bheegi Bheegi" covered by James enjoyed mass popularity all over the subcontinent and fetched the Bangladeshi rockstar international fame.
Moheener Ghoraguli was formed towards the end of 1974 in Kolkata. Initially, they called themselves 'Saptarshi'. When Ranjon Ghoshal, one of the founding members, proposed the name 'Moheener Ghoraguli', the band decided to go with it. Some of their popular tracks are: "Prithibita Naki", "Telephone", "Manush Chena Daye", "Koto Ki Korar Achhe Baki", "Tomaye Dilam", "Hi Bhalobashi" etc. The band emerged in the contemporary Bangla music scene during the heyday of legendary singers such as Hemanta Mukhopadhyay, Sandhya Mukhopadhyay and Shyamal Mitra. Here, across the border, Azam Khan, Firoz Shai, Ferdous Wahid had already started popularising pop music. The name of the band sounds unusual and it is difficult to relate to. The literal meaning of Moheener Ghoraguli is "Moheen's horses". It is actually taken from a poem "Ghora" (Horses) by Jibanananda Das.
They were, as they admitted, a 'baul jazz' band. A fusion of rock music and Bangla folk, their compositions presented a different taste to the youth of Kolkata, if not as a big hit. The band's music can perhaps be described as 'jibonmukhi gaan'. They talk about the disadvantaged, social disorders and pollution. They played western instruments and also experimented with a variety of musical styles. They generously used indigenous instruments -- banshi, dotara, dhol, tabla -- alongside violin, guitar, drums and harmonica.
Moheener Ghoraguli released three albums in three consecutive years. In 1977, the band released its debut album "Shongbigno Pakhikul O Kolkata Bishayak". "Ajana Udanto Bostu Ba Aw-Oo-Baw" (Unidentified Flying Object or U.F.O) followed and finally "Drishyoman Moheener Ghoraguli" (Visible Horses of Moheen) was released in 1979. During the mid-'90s, Moheener Ghoraguli was revived with the release of the albums: "Abar Bachhor Kuri Porey" (1995), "Jhara Shomoyer Gaan" (1996), "Maya" (1997) and "Khepar Gaan" (1998). With the reincarnation of Moheener Ghoraguli in the '90s, the band became widely known to Bangla music lovers.
Gautam Chattopadhyay was the founder of the band. He was a man with multiple identities -- a theatre activist, filmmaker, ethnographer, singer, musician and lyricist. In the 1960s, during his college days, he used to play saxophone and lead guitar in a band called The Urge, whose members were mostly Anglo Indians. While a student at the Presidency College in Kolkata, he was involved in the Naxal Movement, for which he was jailed. Later on, he wandered around India and worked as a medical representative. In spite of his hectic job, he continued composing music. Coming back to Kolkata, he formed the band Saptarshi in 1974 with his brothers Pradip Chattopadhyay, Biswanath Chattopadhyay; first cousin Ranjon Ghoshal; Biswanath's friend Abraham Majumder and family friends Tapesh Bandopadhyay and Tapash Das. Gautam Chattopadhyay died of heart attack in Kolkata in 1999.
The Writer is a Freelance Contributor