Tribute to Bob Marley
An Overview of "Survival"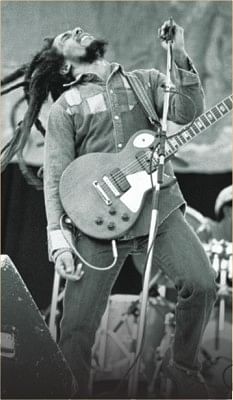 Born on February 6, 1945, son of a white English-Jamaican father and Afro-Jamaican mother, Nesta Robert 'Bob' Marley spent his entire life facing questions about his racial identity. Growing up as a ghetto child in the heart of Kingston and because of his beliefs in Rastafarianism, Marley identified himself as a black African. His identity crisis reflected in his songs that later became anthems in the third world nations. The 1979 album "Survival" clearly encompasses his Afro-centric political ideologies.
Released two years after "Exodus", many observe "Survival" as an answer to the critics, who found his previous album "Kaya" (1978) as a laid-back, substance-soaked work that sidetracks the urgency of his message.
Whether or not it is his best, "Survival" appropriately denotes the Afro-centric reggae superstar's political stand. "Exodus" fetched him global stardom, while "Survival" was his impassioned cry for the oppressed Africans.
If "Exodus" perfectly captures Marley as an amiable idealist and a perennial ladies' man, in "Survival", he offered a militant approach -- both in lyrics and music.
The albums features "So Much Trouble in the World", "Zimbabwe", "Top Rankin", "Babylon System", "Ride Natty Ride", "One Drop", "Ambush In The Night", "Wake Up And Live", "Africa Unite" and the title track "Survival".
His cry for the people of Africa befitted superbly in the lines: "How good and how pleasant it would be/ before God and man/ to see the unification of all Africans" [from "Africa Unite"].
In "One Drop", he criticised the political strategy of the supreme power nations [that he epitomised as the 'Babylon System']. He sang: "They made their world so hard/ every day we got to keep on fighting/…..the people are dying/…for hunger and starvation/…lamentation."
Marley remained cautious about the 'Babylon System', as he alerted fellow Africans: "They don't want to see us live together/ all they want us to do is keep on killing one another" ["Top Rankin"].
He firmly stood his ground and refused to take the policy: "We refuse to be/ what you wanted us to be/ we are what we are/ that's the way it's going to be" ["Babylon System"].
"Wake Up and Live" is a caution as well as urge to the fellow Rastafarians. First he alerts the Rastafarians: "Life is one big road with lots of signs/ so when you riding through the ruts, don't you complicate your mind/ flee from hate, mischief and jealousy". Later he urges the fellow believers -- who are according to him more than sand on the seashore and more than numbers -- to rise from sleepless slumber to do work little by little.
"Ambush in the Night" is an outburst against the then corrupt-ridden Jamaican political scenario that saw a failed attempt to assassin Marley in December, 1976. Picking up evidence from the incidence, he penned: "Ambush in the night/ all guns aiming at me/ they opened fire on me now".
"Zimbabwe" is a hymn dedicated to later-independent Rhodesia.
The title track "Survival" underscores the urgency of African unity, but the name was shortened [earlier it was "Black Survival"] to prevent misinterpretations of the album's theme. Referring to the oppressed Africans, he sang "when every time I look around/ the people suffer…/ in every way, in everywhere".
The album cover depicts 48 flags of 47 African countries and one flag of a Pacific island nation. It significantly misses the flag of South Africa, where the album was partly censored by the then apartheid government.