'Write experiences of liberation war'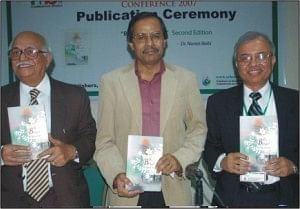 Speakers at a book publication ceremony yesterday urged the people concerned to write their experiences of the War of Liberation not only to tell people the truth but also to counter those distorting the country's history.
They made the call during the publication of the second edition of 'Born in Bengal', memoirs by expatriate Bangladeshi Dr Nuran Nabi of events leading up to the liberation war, at Hotel Sheraton in the city on the concluding day of the Non-Resident Bangladeshi Conference 2007.
"This book is a collage of events from those tremulous time. This is not a history, but rather, a first-person account of my generation," said the author, whom the Far Eastern Economic Review referred to as "the brain" of Tangail freedom fighters' forces for his contributions during the War of Liberation.
Published by Scholars Publishers, Dhaka, the 175-page book also has some rare photographs of Bangabandhu Sheikh Mujibur Rahman, Maulana Bhasani and events leading up to the liberation war.
Prof Zillur Rahman Siddiqui was present as the chief guest while Farida Majid, a faculty of City University of New York, former ambassador Anwar ul Alam Shaheed and Prof Khairul Bashar of Dhaka University also spoke at the programme moderated by Prof Syed Manzoorul Islam.