Saarc fails to fulfil peoples' expectation
Speakers tell int'l seminar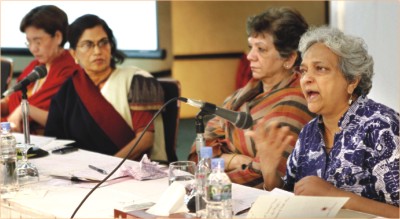 Saarc was established to boost cooperation among South Asian nations but it does not fulfil the people's expectation due to the leaders of the region lacking political commitment, speakers told an international seminar yesterday.
"This forum could serve a vital role to empower people, develop economies, establish rights of women and minorities, and eradicate militancy and terrorism from South Asian countries," said educationist Prof Anisuzzaman.
Though Saarc was established years back, it still is not playing any vital role to solve all the common problems of the region, he told the inaugural ceremony of the two-day seminar.
Titled "Envisioning new South Asia: People's perspective", it was jointly organised by Equity and Justice Working Group-Bangladesh (EquityBD) and South Asia Alliance for Poverty Eradication (SAAPE) at the city's Brac Inn.
Indian feminist and social movement activist, Kamla Bhasin, chaired the opening ceremony. Pakistani labour leader Karamat Ali and Kapil Shreshta, chairman of Human Rights Commission, Nepal addressed it.
"It is people's demand for visa-free Saarc countries, but the government could not make it free," said Shaheen Anam, executive director of Manusher Jonno Foundation. "So, they should think about simplifying the visa process."
She also stressed the job migration that is taking place in this region, especially between Nepal, Bangladesh, and India.
"As an advocate of migrant workers, we demand the migration with dignity and respect to ensure exploitation-free life for the migrants."
Participants from the Maldives, Sri Lanka, India, Nepal, Pakistan, the Philippines, and Afghanistan also addressed the seminar.
The discussion includes the regional integration in the age of globalisation; trade and investment policy; conflicts in Afghanistan, Pakistan, and India; conflicts in ethnicities and religions; and climate change and livelihood.
Pakistani labour rights activist, Karamat Ali, said people of this region are peace loving; they do not like conflicts. The conflicts in this region should be stopped for development and progress of South Asian nations.
Kapil Shreshta said Saarc country people lost their trust as it was inactive for long, but recently there are some steps to re-activate the forum.
Meena Menon, labour and human rights activists of India, said the conflicts between India and Pakistan is the main reason for the inactivity of Saarc, which has an adverse impact on other countries.