Chittaranjan Saha passes away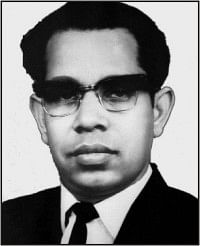 Chittaranjan Saha, managing director of Muktadhara and Puthighar Publications Limited, passed away at the Central Hospital in the city yesterday at the age of 80, says a press release.
He was also the founding joint secretary of Bangladesh Book Publishers and Sellers' Association and a life member of Bangla Academy.
He had received many awards, including the Ekushey Padak.
His body will be kept at 38 Bangla Bazar in old part of the city at 10:00am today for the people to pay their last respects to him.
In a condolence message, Director General of Bangla Academy Dr Syed Mohammad Shahed said, "The nation has lost an eminent personality at the death of Chittaranjan."
Owners of the bookshops at Bangla Bazar, Northbrook Hall Road and Parydas Road will keep the shutters down till 12:00 noon today to mourn the death of Chittaranjan Saha.