Four killed in RMG flare-up
Over 200 injured; 11 factories vandalised; 5 vehicles burnt, 20 more damaged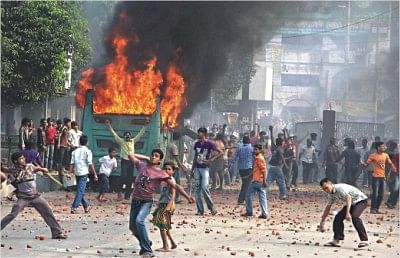 Unruly garment workers clashed with law enforcers in Chittagong, Dhaka and Narayanganj out of grievances over wage yesterday leaving at least four people dead and 200 others injured.
The four including a garment worker and a rickshaw-puller were killed during a five-hour clash in and around Chittagong Export Processing Zone (CEPZ). The identity of the other two remained unknown. Labourers of other factories also joined the garment workers.
Police fired 600 rounds of bullet and 150 teargas canisters to disperse the agitating workers in the three places. They picked up at least 65 people including 30 in the port city.
The workers pelted law enforcers with brickbats and stones. They also damaged 11 garment factories and 20 roadside buildings.
The protesters set five vehicles ablaze and damaged 90 more bringing traffic on Chittagong Airport Road, Dhaka Airport Road and Dhaka-Sylhet Highway to a halt for hours.
The clashes led to the closure of the entire CEPZ in the morning and suspension of production at three factories in Dhaka and another in Narayanganj. The CEPZ houses 156 factories with 1,54,000 workers.
Mohammad Abul Qashem, commissioner of Chittagong Metropolitan Police, said one of the dead was Ariful Islam, 35, a rickshaw puller.
He said the cause of death could be confirmed after autopsy.
The CMP commissioner said 56 policemen were wounded including one bullet hit. Six of them were in a critical condition.
"A third party might have fired shots during clashes leaving Constable Rafiqul Alam injured," he said.
He CMP chief said police fired 519 rounds of rubber bullet, 60 rounds from Chinese rifles and shotguns, and 96 teargas canisters to disperse the demonstrators.
Witnesses said nearly 10,000 workers of 11 units of Korean Youngone Ltd in CEPZ went to work in the morning without any knowledge about the authority's decision of indefinite shutdown of the units on Saturday following labour unrest over wage.
Earlier, the workers of Youngone Ltd took to the streets demanding reinstatement of a "temporary" Tk 250 food allowance that the management withheld when it started paying the new minimum wage, said an official of the company.
Finding the factories closed, they became furious and clashed with police for about five hours since 8:30am turning the entire CEPZ area into a battlefield.
The workers tried to break through the main gate of the Youngone Ltd. They damaged gates and windowpanes of other factories. Labourers of other factories later joined them.
Tanvir Arafat, assistant commissioner of police in Double-Mooring Zone, said hundreds of angry workers clashed with police at about 8:30am when law enforcers barred them from blocking the Airport Road near the main entrance of the CEPZ.
Police charged truncheons on the demonstrators who pelted them with brickbats. Law enforcers fired shots and tear gas shells to disperse them.
The workers took position at different points from Airport road to Agrabad Barik building bringing vehicular movement on the road to a halt.
Rezaul Masud, senior assistant director of Chittagong Industrial Police, said unruly workers set fire to a bus and a motorbike, and damaged 30 other vehicles. They ransacked eight garment factories and 20 roadside buildings.
Four people were killed and 90 others, including 56 policemen and three journalists, injured in the clashes. Of the wounded, eight were hit by bullets. Ten of the injured were admitted to the Chittagong Medical College Hospital.
Deputy Commissioner (Port) Kushum Dewan claimed rickshaw-puller Ariful died after being hit by a brickbat during the clash in front of the CEPZ at about 12:00noon. But his employer said he was shot dead.
Police later took his body to Chittagong Medical College Hospital.
Ruhi Das, 45, worker of CM Superior Garments, got injured at the CEPZ main gate while coming out of his factory shortly after 11:00am.
Ruhi, a resident of Pathorghata, was rushed to a local hospital and later shifted to the CMCH where the doctors declared him dead at about 1:30pm, said his nephew Titu Das.
Police held 30 people with links to the clashes.
Bangladesh Export Processing Zones Authority Chairman Jamil Ahmed Khan held a meeting with CEPZ and CMP officials after the incident. Local lawmakers and ruling party leaders were present there.
After the meeting, the BEPZA chairman said all factories except the 11 units of Youngone Ltd in the CEPZ will open today.
Fazle Rabbi, general manager of sector-7 of Youngone Ltd, at a press conference at about 3:00pm, said outsiders were involved in the violence which he claims has caused a loss of around Tk 100 crore to the company.
Meanwhile, in the capital, at least 100 people including 25 law enforcers were injured, as workers of three factories of Nasa Group clashed with police on Airport Road in Kuril area in the morning.
Vehicular movement on the road was suspended for around three and a half hours, as the agitating workers vandalised at least 50 vehicles and set fire to a microbus, a private car and a taxicab.
Police fired 40 teargas canisters and 10 rounds of rubber bullet to disperse the demonstrators and picked up 30 people from the spot.
Officer-in-Charge Mojibur Rahman of Badda Police Station said around 8,000 workers of Nasa Group's three units--Kimia Garments, Sunseed Apparels and Eden Apparels--gathered near Kuril Bishwa Road around 8:00am, demanding implementation of the new wage scale.
The workers allege the factory owners have added only Tk 500 to their earlier salaries instead of following the new wage structure.
Witnesses said the clashes broke out when police resisted the demonstrators trying to block the road at 9:00am.
For around two hours, the workers fought pitched battles with the law enforcers in Kuril-Bishwa Road and Radisson Hotel areas.
Several policemen had to swim across the canal beside the Airport Road to flee a group of angry workers in their wake.
Traffic on the road returned to normal at 11:30am.
Some of the workers left the Airport Road and returned to their factories, ransacking all three units.
Nizamul Huq Mollah, additional deputy commissioner of police (Gulshan division), told The Daily Star they arrested seven people in connection with the violence.
Our Narayanganj correspondent reports: At least 25 people including five cops were injured during chase and counter-chase between police and garment workers in Rupganj yesterday morning.
Police held five people on the spot.
The workers, mostly of Robin Tex BD Ltd at Bhulta Gausia, blocked Dhaka-Sylhet highway for an hour and ransacked several vehicles.
They were protesting the closure of the factory following Saturday's violence, which left 10 people injured.
As the workers went to work around 8:00am yesterday, they saw the closure notice and flew into a rage.
They tried to go inside the factory but were resisted by the law enforcers who had been deployed there after Saturday's violence.
Thwarted, they took to Dhaka-Sylhet highway and ransacked seven vehicles, halting vehicular movement for an hour.
At around 10:00am, law enforcers lobbed 15 teargas shells and baton-charged the demonstrators. They also shot 38 times in the air to bring the situation under control.