"I always work in my own way"
Striking up a conversation with Zahid Hasan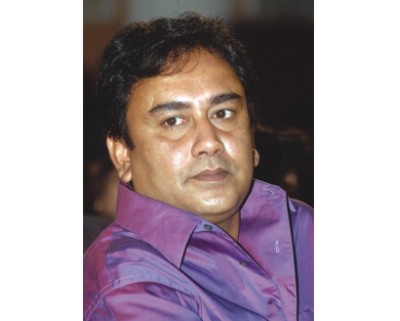 Zahid Hasan is many things rolled into one -- stage and TV actor-director, as well as an actor on the silver screen.
Talk to him and you get the picture of a man who has striven hard to make it and been rewarded with success.
The Daily Star (TDS) had a chat with Hasan on a gamut of issues. Excerpts from the conversation:
TDS: Tell us about your initiation into the world of drama.
Zahid Hasan: I was crazy about plays since I was in school. I was born in Sirajganj, and it was there I joined my first theatre group Sirajganj Torun Shomproday Natya Dol. I performed for a while across north Bengal with the group. My regular performances were in "Shat Purusher Rin".
I was also in the Scouts, where I tested my acting skills. I remember that BTV aired our production of "Shat Purusher Rin" on August 10, 1984. That was my first appearance on TV. My love for acting since childhood is what carried me this far.
TDS: What were the moments that defined your acting career?
Zahid Hasan: My first turning point was passing the BTV audition in 1989. Then came 1990, and with it my first TV play "Jibon Jemon". I landed the lead role in the play produced by Alimuzzaman Dulu. I consider this as a huge turning point. I also played the lead role in the BTV adaptation of Rabindranath Tagore's "Shomapti", produced by Mahbubul Alam. Meghna acted opposite me in the drama, while Subarna Mostafa was the screenwriter.
I'm also the founding member of Natya Kendro. With the group, I played the protagonist in "Bichchhu", a role that brought me much praise and cemented my place in the acting arena.
TDS: Tell us something about your experience on the silver screen?
Zahid Hasan: My first appearance in a movie was in "Boloban", a 1986 joint production of Bangladesh, Pakistan and Sri Lanka. After a long break I acted again in Humayun Ahmed's "Srabon Megher Din". That performance landed me a national award. Once more there was a 10-year break before I acted again in Humayun Ahmed's "Amar Achhe Jol". I also worked in Mostafa Sarwar Farooki's "Mad_e in Bangladesh ", another film by Abu Sayeed and am currently working in Muhammad Mostafa Kamal Raz's "Projapoti".
TDS: Now that you've been away from theatre for a while, does it still attract you?
Zahid Hasan: Like I said, my acting career began on the stage. Although my busy schedule pushed me away from the stage, I still want to go back. On stage, an actor can get a direct reaction from the audience.
TDS: Where did you spend your childhood?
Zahid Hasan: I moved around to many places because of my father's job in public service. I studied at the Sirajganj Hoimobala Boys High School up to class four and then spent the next three years at Benapole's Inter-School. I returned to Sirajganj for my SSC exams.
TDS: Through your long and illustrious career, how did you manage to cement your place in the entertainment arena?
Zahid Hasan: I always work in my own way. I work hard to achieve something. But everyone's support and the love of my fans have also helped me get where I am today. Directors and the media have also helped me a lot. I always remember something Shakespeare referred to: that it is easier to be something, than preserve what you have become.
TDS: Tell us more about your experience of direction.
Zahid Hasan: It began completely as something I wanted to try. Acting fulfils my hunger, but eventually I was interested in direction. So I directed the mega serial "Lal Nil Beguni". Other serials that I have directed include "Ghughur Basha", "Chor Kuthhuri", "Eka" and "Chhonno Chhara". My one-hour TV plays and tele-films include "Rumjhum", "Boka Manush", "Byabodhan", "Shopno Groho", "Opu the Great" "Private Detective" and "Baundule Express".
TDS: What about your current directorial challenges in "Haater Rekha Kotha Bole"?
Zahid Hasan: The story of the drama has been taken from our daily lives. I act as a palmist in "Haater Rekha Kotha Bole", while Humayun Faridi stars as a politician. Azizul Hakim and Mir Sabbir also perform brilliantly in the play. The story about a township, which I shot in Sirajganj, has already gathered good TRP ratings.
TDS: What do you have to say about the speculation that you will test your directorial skills for the silver screen?
Zahid Hasan: It has been my long cherished dream to direct a film. Professor Syed Manzoorul Islam is currently writing a script with the title "Girgiti". I don't know when I will be able to start making the film. It maybe next year or later, but I will definitely make it.